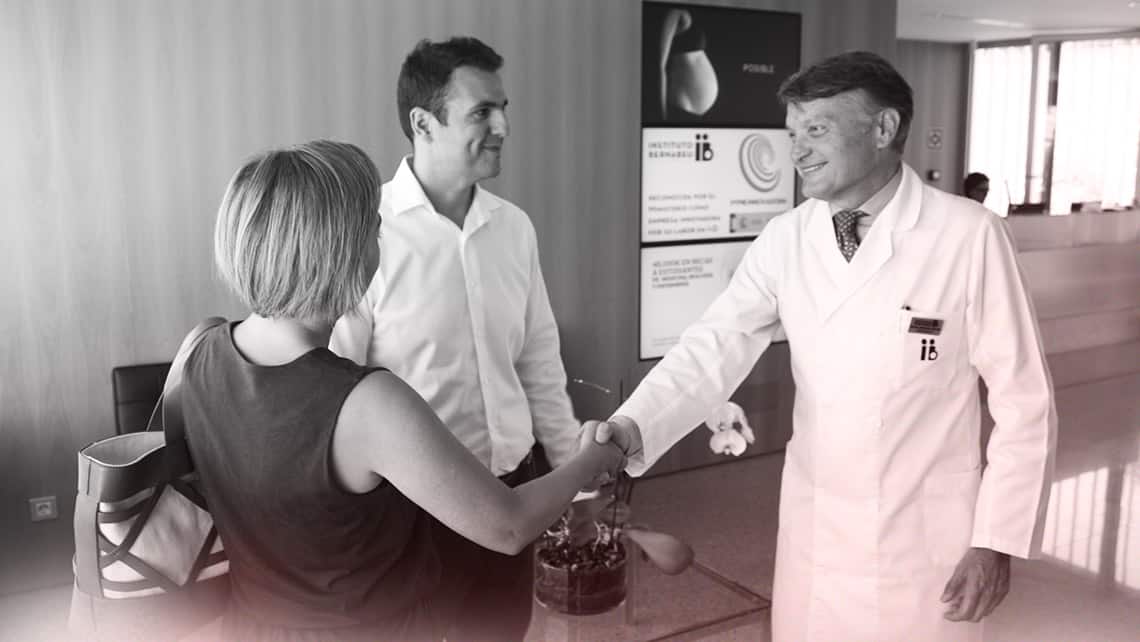 What should you ask and know during your first fertility visit?
At Instituto Bernabéu we consider the patient's first contact with our team to be of great importance. The comprehensive assistance we offer from the very first moment, in the hands of all the Instituto Bernabeu professionals, ranges from telephone assistance (during working hours and emergencies), through the nursing department and personal assistants, laboratories and of course, the gynecologist who specializes in assisted reproduction. Together we pay the utmost attention to the patient and pursue a common goal: to have a healthy baby at home.
We know that going to a fertility clinic to achieve a pregnancy is a difficult step, with a great emotional load, even if it is a merely informative visit, and that is why we try to make this first interaction as pleasant and satisfactory as possible for patients, meeting their expectations and providing as much information as possible, so that the final assessment of patients is optimal.
For the fertility doctor, the first visit is very important, as this is where he/she gets to know the patients, assesses their personal history and offers explanations and treatment alternatives that are personalised for each case.
What will the doctor specialising in reproductive health ask you at the first consultation?
During this visit, the gynaecologist will review the patients' general medical history, taking note of all the data of interest related to fertility, and will also carry out a physical examination.
We will start with the medical history; the gynaecologist takes an interest in the patients' lifestyle and general health. The gynaecologist will also ask about family and gynaecological history, details of the menstrual cycle, whether certain drugs or medication are or have been taken, whether there is substance use or whether there has been any exposure to toxins. They will also ask about the existence of any surgeries, analytical tests or previous treatments. In addition, during this first visit, a complete gynaecological examination will be carried out. Weight and height will also be recorded.
What should you bring to your first fertility consultation? What information is important for the gynaecologist expert in Reproductive Medicine?
All health documents that can be brought to this consultation will be very useful, especially those that refer to previous medical history, tests or fertility treatments. Any circumstance, illness or gynaecological surgery that is considered relevant should be passed on to the specialist, so that the diagnosis and treatment alternatives offered are as personalised as possible.
In any case, if you have difficult to obtain these reports, don't delay the appointment, as the doctor will be able to make a proper assessment and confirm whether they're absolutely necessary or dispensable.
What basic tests may you be asked for at your fertility check-up?
Each patient is unique, so the same diagnostic methods cannot be applied globally. After carrying out an extensive evaluation and taking into account your personal characteristics and needs, the gynaecologist will assess which explorations or diagnostic tests are appropriate for each case.
In general terms, the following tests are performed during the first fertility consultation at the Instituto Bernabeu:
Anamnesis. As we have already mentioned, this is the study of your family and personal history. These details may influence the course of your future pregnancy, be the cause or have an impact on the difficulties for conception. As well as lifestyle habits or exposure to toxins.
Evaluation of previous infertility history.
General and gynaecological examination. Where your uterus and ovaries will be studied morphologically and functionally.
Diagnostic tests. The cost of the first visit includes, if necessary:
A high-resolution 3D ultrasound scan for the uterus, tubes and ovaries morphological study.
A basic semen analysis.
Sperm morphology study.
An analysis of your anti-Müllerian hormone (AMH) to assess your ovarian activity.
The Instituto Bernabeu fertility study, consists of a second interview, either in person or online, in which the gynaecologist, after having all the results of the studies performed, will offer you a personalised diagnosis, and you can start your cycle whenever you wish, starting with your next menstrual period.
What kind of advanced tests can be requested?
As we anticipated, when it comes to fertility, each person is unique, and standard tests cannot be applied. Therefore, in certain cases, it will be necessary to perform more specific tests based on the patient's profile or specific needs. The main ones include, among others:
You can find more information about other diagnostic tests at the following link: advanced fertility studies.
If you have a male partner, what tests can he be asked to do?
General analyses related to health, karyotype, serology or blood group are common. But, in addition, in the case of the male, a seminal evaluation is performed, which in certain cases can be completed with other tests such as REM (recovery of motile sperm), FISH (to assess certain alterations in the chromosomes of the sperm) or TUNEL (analyses the degree of the sperm's DNA fragmentation), among other more specific tests.
If you have a female partner, what tests will she undergo?
In the case of a female couple coming to our clinic with the desire to become mothers, there're several options available. The basic tests that will be carried out will be the same as those described above for any patient. In addition, depending on the treatment to be performed, other more specific tests will be carried out, as described above.
Depending on the patients' wishes, and the personal circumstances, the specialist will provide couples with personalised guidance as to the most appropriate treatment:
Artificial insemination with donor sperm.
In vitro fertilisation with donor sperm.
Double gamete donation
Embryo adoption
The ROPA method, in which one patient undergoes eggs stimulation and collection, and the other carries out the embryo transfer and pregnancy.
If I want to become a single mother, what do I need to bear in mind at the first fertility consultation?
We have extensive experience in the medical and emotional care of patients who wish to become mothers without a partner. In your first fertility visit we will guide you regarding the most appropriate reproductive treatments for your case. You should know that in addition to a complete fertility check-up, we will study the most appropriate sperm donor according to your profile. At Instituto Bernabeu we apply the strictest genetic, physical and psychological controls to our candidates. We have a bank of more than 1000 semen samples for an optimal and rigorous allocation. Learn more
What should you ask the doctor or personal assistant?
Patients should ask the gynaecologist any questions they may have before, during or after the first visit. The most common questions patients ask during this first contact with the specialist are related to the following topics:
Am I free to choose any doctor from your list of specialists?
Of course, the answer is yes.
Where are the laboratories that carry out the tests requested?
The vast majority of tests are performed in our facilities and the laboratories belong to the fertility clinic itself. The IVF, Genetics and Andrology laboratories at Instituto Bernabeu are very powerful laboratories, equipped with the latest technology, and are a reference in the field.
The different ovarian stimulation treatments, what they consist of and how long they last.
These questions can be answered in detail by the gynaecologist or the patient's personal assistant.
How much does each treatment cost?
The administration department will inform you in detail after the consultation about the costs of the individual tests and treatments indicated in the consultation, as well as the different types of financing.
Are there specific treatment units?
In order to provide the correct care and treatment for each case, Instituto Bernabeu has specific units for the diagnosis and treatment of the main reproductive pathologies, among which are the following:
Low ovarian reserve unit.
Embryo implantation failure and recurrent miscarriage unit.
Endometriosis unit.
Infertility due to obesity
Fertility endocrinology
Immunology
Genetic counselling
Which quality certificates guarantee the processes?
Our commitment to quality and safety at every stage of reproductive treatment is endorsed by the award of 6 national and international recognitions that are periodically renewed:
ISO 9001:2015 for quality management.
ISO 14001:2015. Integral Environmental Management Systems.
EFQM "commited to excellent" from the European Foundation for Quality Management. The first Spanish reproductive medicine centre to achieve this.
SEP stamp EFQM (excellent private healthcare).
SEP International.
QH Quality HealthCare
UNE 179007 Quality Management for Assisted Reproduction Laboratories.
Do I need more information about the gamete (egg or sperm) donor selection process?
If treatment requires gamete donation, there will be a subsequent consultation with a specialist from the donation department to explain this issue in detail and resolve any doubts related to it.
Can I know each treatment's success rates?
During the consultation, the gynaecologist will explain the results of each of the proposed techniques, adapting them to the characteristics of each patient.
In addition, in order to offer our patients maximum transparency, we provide our results annually to the Spanish Fertility Society (SEF) and they are externally audited by two external certifiers. (additional information)
What do I do if I still have doubts?
From your first visit to Instituto Bernabeu, your Personal Assistant (PA) will be at your complete disposal to accompany you throughout the entire process. You will be able to share, comment, explain and solve any questions you may have, either in person during your visits and medical tests, or by e-mail or telephone. The personal assistant also acts as a link with your doctor so that communication is always fluid and agile.
Years of experience.
The Instituto Bernabeu group has been a pioneer in finding personalised solutions for infertility patients for more than 35 years.
Comprehensive service and emergency consultations.
The specialists at Instituto Bernabeu are available during working hours, and there's also an emergency service that can be reached by phone to assess the situation of any patient who needs it outside of opening hours.
Dr Leyre Herrero, a biologist at Instituto Bernabeu