GCT: Genetic compatibility test
Through the study of genetic incompatibilities, also called "genetic matching" or "carriers study", we prevent the transmission of more than 600 or 3,000 genetic diseases (depending on the modality) to their children
Autosomal recessive diseases are hereditary diseases found in our gene map. Although their prevalence among the population is very low (1% of all new-born babies), many of these diseases are serious and incurable. In fact, genetic diseases are responsible for approximately 20% of infant mortality and 18% of paediatric hospital admissions.
The vast majority of people are healthy carriers of a recessive disorder. If both partners carry the same mutation in their genes, there is a 25% risk that the couple's child will develop this same disorder, and a 50% chance that the child will be a healthy carrier, which may also bear implications for his or her future offspring.
To avoid this, the Instituto Bernabeu and its genetic unit the Instituto Bernabeu Biotech, offers its patients the Genetic Compatibility Test (GCT), also known as Preconception Screening for Recessive Diseases, based on a new scientific technology known as high-throughput DNA sequencing or Next Generation Sequencing (NGS).
This analysis, which we perform on all our donor candidates, and which we also offer to our patients, reduces the risk of the birth of an affected child from 0.5-1 per 100 to 1 per 40,000 – 50,000, ensuring biologically healthy descendants.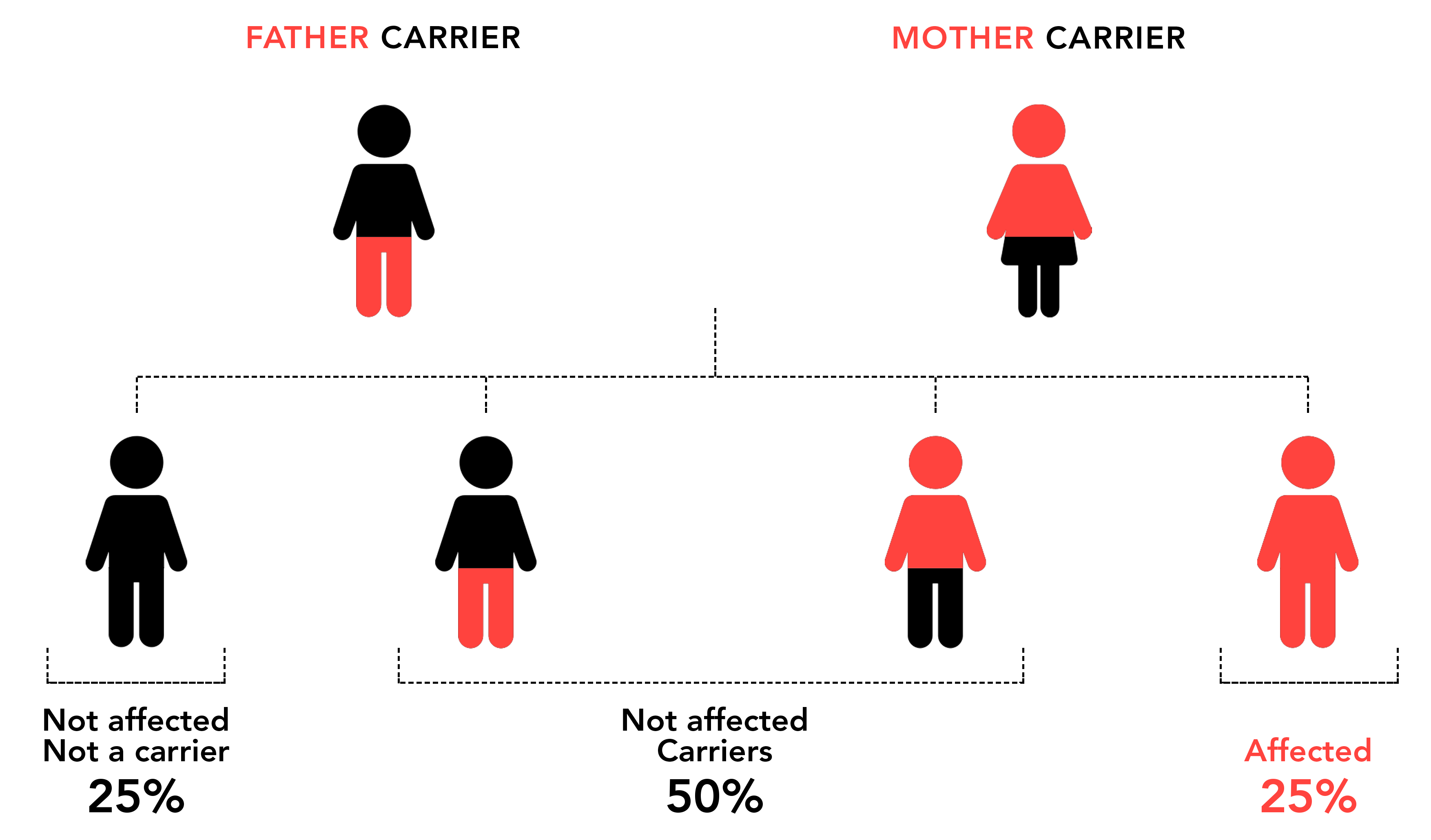 What does the Genetic Compatibility Test (GCT) consist of?
The Genetic Compatibility Test, also known as carrier genetic test (CGT)®, Carriermap®, CarrierDNAinsight® o Recombine®, is a test to identify mutations in the genes reponsible for recessive and X-linked disorders. The study of this panel of massive DNA sequencing gives the possibility of analyzing the presence of the genes linked to the most serious autosomal recessive diseases, either in its examination modality of 600 diseases or 3,000. This last modality is th broadest reaching genetic carrier study on the market today.
Thus, from a simple blood sample, we are able to determine the risk of transmitting these diseases to your children and we can act to prevent it.
In our laboratories, the results are obtained in a very short time frame, between 2 and 3 weeks, minimising waiting time and uncertainty for the patient.
What kind of genetics carriers study we offer?
The patient can choose any of the following types of GCT, depending on how many genes to study.
Genetic compatibility test: Test for more than 600 hereditary disorders analyzing 555 genes. Get more information about disorders.
Extended genetic compatibility test: Genetic compatibility testTest for more than 3000 hereditary disorders analyzing 2306 genes. Get more information about disorders.
When is it advisable to perform the Genetic Compatibility Test?
We recommend carrying out a genetic compatibility study especially in the following cases:
When a couple is about to seek pregnancy through natural means or via assisted reproduction treatment with their own gametes, especially if one of the 2 members of the couple (or both) has a family history or is a carrier of a genetic disease.
When there is some kind of family relationship between the couple (consanguinity).
When the couple is about to commence assisted reproduction treatment using donor gametes (oocytes or semen). The Instituto Bernabeu guarantees the GCT genetic study of all donor candidates, whether of oocytes or semen, without exception, thus guaranteeing the quality of the gametes and providing the future parents with peace of mind regarding the health of their future child.
This analysis can be performed for any couple before they try to have a child and it is of particular interest for those who may have greater consanguinity (family links) because they would be at greater risk of sharing mutations of the same gene.
What if a genetic incompatibility is found in the couple?
If genetic incompatibilities are found in the couple, measures and treatments are available to prevent the disease from being transmitted to their children.
Another possibility is the donation of gametes, where we select a gamete that does not carry the same disease as the patient, which would prevent the possibility of the child being affected.
Reasons for performing the Genetic Compatibility Test at the Instituto Bernabeu
We are the reproduction medicine centre with the widest genetics study done free to all our gametes donors.
This complete study gathers all diseases recommended by the Spanish Fertility Society (SEF in Spanish) for all preconception genetic studies
We have the most advanced technology and our own laboratory, enabling the results to be delivered to the patient more quickly (between 2 and 3 weeks) and guaranteeing traceability of the sample.
We have our own team of specialists, who also perform important research that helps us to guarantee and optimise the best results.
Since the GCT study is based on the complete exome, our matching is compatible with any GCT, independently of the laboratory that carried it out.