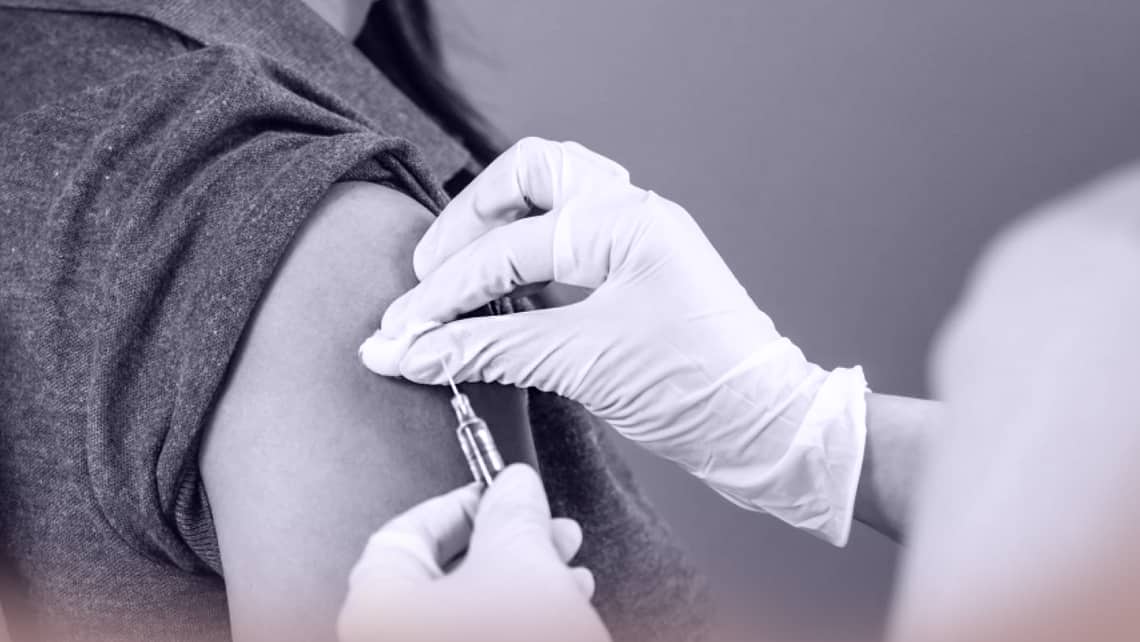 COVID vaccination, pregnancy and fertility treatment
Vaccination against Covid-19 is now a reality. And with it, some interrogations that affect fertility treatments and pregnancy, as for the little time that has passed, there are still no conclusive studies.
Since December 2020, three vaccines, based on different technology, have been administered in Europe with the aim of creating immunity against the virus. Two of them, Pzifer / BioNTech's and Moderna's, are based on messenger RNA (they teach our cells to produce a protein to trigger an immune response) and AstraZeneca's uses viral vectors (it uses another transformed and adapted virus as its basis to fight the coronavirus). In all three cases, two doses are necessary to achieve immunity, spacing their administration between two and three weeks.
The European Centre for Disease Control (ECDC) has recommended this vaccination prioritizing risk groups. Each European country has established its corresponding national plan in this regard.
Our valuation
We are in favour of the administration of vaccines against Covid-19, and we believe it should be recommended to the entire population in a generalized way. Always taking into account the particular situations of each case and advising the utmost prudence.
The objective is to fight against the persistence of the current situation of uncertainty and its unpredictable ups and downs. Act on the disease's progression and reduce the devastating effects for most professional activities and its unsustainable economic repercussions.
Instituto Bernabeu's position regarding the vaccination of our patients is detailed in the following four points:
Vaccination opinion favourable, after the timely approval of the Health Authorities.
As indicated in the first vaccines that have already been administered, you must wait two weeks for the last dose to gestate. Meanwhile, in patients with fertility problems, previous studies, ovarian stimulation, IVF, embryo biopsies and other phases of treatment can be started, except for embryo transfer, which must be delayed until 14 days after the last dose of the vaccine.
Patients who share a proactive vision: vaccinate as soon as possible and follow the previous point steps.
Patients who are reluctant to vaccination: they can start Assisted Reproduction Treatments, stating this circumstance in the clinical course and always applying the established prevention measures.
We are prepared to always consider your preferences and we maintain our clear determination to offer the safest options in each case.
European Society for Human Reproduction and Embryology (ESHRE) recommendations for the Covid-19 vaccination
Recently, the ESHRE COVID-19 Working Group has published a series of recommendations regarding Covid-19 vaccination in the Assisted Reproduction setting. In general terms, they coincide with those already proposed and published previously in the Instituto Bernabeu.
The European body has emphasized that men and women of reproductive age who are planning a pregnancy should be included in these vaccination programs based on their individual risk of severe Covid-19 disease and / or professional exposure.
The ESHRE indicates that inactivated and toxoid-based vaccines are considered safe for use during pregnancy. And it tries to answer the most recurrent questions:
Should I get vaccinated before starting assisted reproductive treatment or before seeking pregnancy?
There's a lack of information on the possible effect of COVID-19 vaccination on
reproductive treatments and future pregnancy. The information provided by current vaccines confirms that animal studies "don't show any harmful effects on pregnancy." However, data during pregnancy are reported as "very limited" and no data on breastfeeding. ESHRE cannot make any recommendations on whether men and women trying to conceive through assisted reproduction should receive the vaccine before starting fertility treatment.
However, it is strongly in favour of vaccination in the cases of women with chronic diseases and women with a high risk of exposure to infection by the virus.
And furthermore, the ESHRE specifies that men and women who live in countries where the vaccine is not available or simply choose not to be vaccinated, should not be an impediment to starting assisted reproduction treatment.
Furthermore, and with caution due to the lack of studies, the Spanish Ministry of Health indicates about women who plan a pregnancy or who are already pregnant, that, as they do not contain active viruses, current vaccines should not affect the foetus nor the pregnant woman herself.
Should couples who received the COVID-19 vaccine postpone conception, and if so, how long?
There are different points of view on the need to postpone conception after vaccination. It seems prudent to postpone for at least a few days after the completion of the vaccination (i.e. after the second dose) to allow time for the immune response to stabilize.
Recommendations for COVID vaccine administration
In line with the CDC, the American College of Allergy, Asthma and Immunology recommends the following: (*1)
Patients who have a serious allergic reaction to the first dose should not be given the second one.
Vaccines must be given in a working hospital environment where urgent healthcare can be provided if a patient has an allergic reaction. People who have been administered the vaccine should be kept under observation for between 15 and 30 minutes.
Whilst no specific components of the vaccine that cause anaphylaxis have as yet been identified, one of its ingredients is polyethylene glycol which can cause potential negative reactions.
People who are allergic to foods, latex and common pharmaceutical drugs are not necessarily more likely to have an allergic reaction.
The vaccine can be given to immunocompromised patients since it does not contain any live viral particles.
SEPTEMBER 2021 COVID UPDATE
This update is provided based on a review of the following documents:
ESHRE: SARSCOV2 and service adaptation
ESHRE: COVID19 Vaccination
Ministry of Health: Update no. 7
SEGO-FACME: COVID19 Vaccination
By way of a summary, Instituto Bernabeu continues to believe that everyone who is able to have a COVID vaccination should have one as soon as possible.

Individuals will be protected and, if a woman gets the disease before, during or after the moment she falls pregnant, the risks associated with COVID-19 significantly decrease. It is our priority. However, caution should be exercised and risks should be individually assessed. Therefore, we offer the following recommendations:
Vaccinations for pregnant women and breastfeeding mothers:
Vaccination should be actively encouraged
Vaccination with mRNA vaccines only (Pfizer and Moderna)
Patients undergoing assisted reproduction treatment:
Vaccination should be encouraged
Embryo transfer can be carried out immediately following administration of the second dose
Other considerations:
ESHRE STRESSES ON A FEW CONSIDERATIONS:
There's currently no information on the vaccination role in patients and staff who have had COVID-19 disease and could have developed immunity.
Recommends monitoring the results of assisted reproductive treatments and comparing them in vaccinated versus unvaccinated patients.
Urges COVID-19 vaccine manufacturers to share relevant information and advice on vaccinating pregnant women and couples contemplating pregnancy.
And finally, the ESHRE points out that to date, there is no information on the safety of the different types of vaccines during reproductive or pregnancy treatments, and no recommendation can be made on which is the safest.
PHARMACEUTICAL COMPANIES HAVE NOT ANSWERED SEVERAL QUESTIONS:
What happens beyond 2 months after vaccination
If the vaccine protects against asymptomatic infections in non-vaccinated people, as well as what happens if the 2nd dose is not given.
Its effectiveness in case of new strains.
What would happen in other population groups: pregnant women, children, immunosuppressed.
Bibliography
(*1) .https://acaai.org/news/american-college-allergy-asthma-and-immunology-updates-guidance-risk-allergic-reactions-mrn
(*2) Asociaciones Españolas de Pediatría y de Vacunología y las Sociedades Españolas de Inmunología, Microbiología y de Virología manifiestan su apoyo y asesoramiento a la vacunación contra la covid-19.
(*3) Manifiesto a favor de la vacunación frente a SARS-CoV2 y documento de preguntas y respuestas sobre la vacuna de la Sociedad Española de Pediatría.
(*4) Joint IFFS/ ESHRE statement on COVID-19 vaccination for pregnant women and those considering pregnancy
IT MAY ALSO BE OF INTEREST TO YOU:
Recommendations of the ESHRE with regards to Coronavirus
The importance of freezing techniques during the Coronavirus COVID-19 pandemic
Security in the IVF laboratory in times of coronavirus
Dr Jordi Suñol. Instituto Bernabeu's Gynecologist within the Covid-19 follow-up committee.