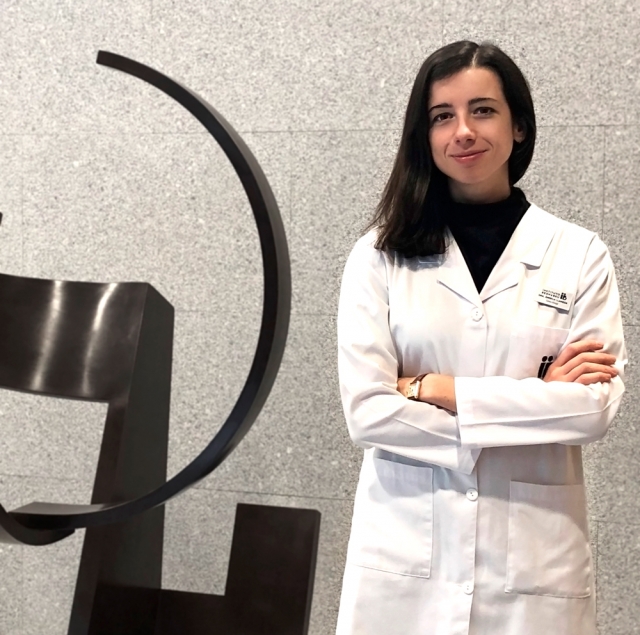 Get to know Dr Ángela Llaneza
Dr Ángela Llaneza is incredibly passionate about her work and loves having a job that truly motivates her, day in, day out. She discovered her interest in medicine just a year or two before she had to choose what to study at university. Whilst she does have relatives who are doctors, she had not really shown any interest in the field up until then. The closest thing had been an early childhood interest in becoming a vet. Up until then, she had concentrated on economy classes but she soon left this passion behind when she became fascinated with life and how human bodies function.
Her career in the field of reproductive medicine has always been linked to Instituto Bernabeu. She is very attached to the clinic and has worked in several of its branches: Albacete, Alicante and Madrid. "I specialised in gynaecology at San Carlos Clinical Hospital, which has long-standing experience in the field of assisted reproduction. My medical residency meant I was able to discover a field that I am really passionate about. I did a Master's degree in Reproductive Medicine but all my training has been closely linked to Instituto Bernabeu. I am a part of the clinic," says Dr Llaneza. She is now a gynaecologist at Instituto Bernabeu and deals with a number of international patients since she speaks both French and English. She finds this work very fulfilling and it enables to get a better idea of why people from Spain and abroad turn to Instituto Bernabeu to solve their reproduction issues.
She is currently studying for a master's degree in public health with the aim of gaining a more in-depth understanding of the social and epidemiological side to gynaecology and reproductive medicine in particular.
Dr Llaneza is fascinated by her profession. When she was a student, she discovered and was drawn to the process that starts with fertilisation and culminates in childbirth. "It is really fascinating to discover how two cells eventually turn into a child and, once I had trained to be a gynaecologist, I discovered my passion for reproductive medicine," she says. Her current professional focus is embryo implantation failure and the immunology factor in fertility, in addition to other factors that have an impact on people's health. "The thing that interests me most about pregnancy is implantation. The immune system and how a body that would not normally tolerate foreign bodies, permits a foreign body to develop inside it for nine months. I am also interested in the epidemiology side," explains Dr Llaneza.
She has a keen interest in fertility issues and the extent to which there is a social component to those issues. At the clinic, she sees couples and women who turn to the clinic at a much later stage than they would have perhaps liked. She is aware that whilst medicine tries to get over and compensate for the consequences of delayed maternity (often successfully), there is also a need to develop compensation policies and support measures that encourage maternity earlier on in life.
She is fascinated by research into implantation failure, an issue that Instituto Bernabeu has decided to focus on and, thanks to its specialist unit, the clinic studies, researches and searches for solutions for women who do not manage to get pregnant or women who, when they do get pregnant, lose the embryo early on. Dr Llaneza is aware that "we are still a long way off reaching absolute truths" and adds that "it is important for patients to understand this. They need to have realistic information. We need to be honest with them."
The profile of patients at Instituto Bernabeu in Madrid is often people who have already been on a long journey, who have experienced unsuccessful courses of treatment, who have complicated diagnoses and who suffer from implantation failure. A third of all patients have poor reserve. "A lot of suffering goes on for people who are trying to have a child," explains Dr Llaneza from Instituto Bernabeu. The pillars for treatment at the clinic are evidence, safety and comfort.
During her spare time, Dr Llaneza enjoys doing sporting activities and spending time with friends. She manages to disconnect by listening to music and reading. Whenever she can, she visits family in Asturias and finds solace in the countryside in that part of Spain given that this is difficult to achieve during her busy day-to-day life.
"The immune system fascinates me. That is, the fact that a human body will not tolerate foreign material but accepts a foreign body for nine months."
What has the journey to becoming a gynaecologist been like?
It has been hard but there have been a lot of good times. I'm passionate about medicine although I didn't always want to be a doctor. In fact, I wanted to work in economics. At seventeen, I started getting interested in how the human body works. I had not shown any interest in it before.
What fascinates you most about reproductive medicine?
I was keen on endocrinology at the beginning. It's closely linked to what we do now. My fascination for gynaecology, controlling pregnancies and childbirth began during my degree. Also, how two cells can turn into a child. Once I'd specialised in gynaecology, I discovered my passion for reproductive medicine.
What is your current professional field of interest?
I'm interested in pregnancy, implantation and why some embryos implant but others do not. I'm interested in the immune system and the fact that a human body does not tolerate any foreign material but accepts a foreign body for nine months really fascinates me. I'm also keen on the epidemiology side because we do have a fertility issue in our society and there are social components to it.
What exactly are those components?
One of them is delayed maternity and we need to look at why that is happening. It could be instability at work or the time needed to find a suitable partner. Maternity is sometimes penalised and there are few incentives. A pregnancy can put a professional career on hold. Medicine can do a lot but we need more policies.
What do you like about implantation failure – your area of speciality – and the immunological factor?
It's a really very interesting subject to research. But we're still a long way off finding absolute truths. It's important that patients are aware of this and that they have reliable information. We have to be honest with them.
What is the profile of the patients that you see at Instituto Bernabeu?
Patients often tend to have been on a long journey, have experienced failed courses of treatment and have complex diagnoses. This is often due to implantation failure. A third of patients with poor ovarian reserve who come to our clinic do so because we are specialists in this field. A lot of suffering goes on before couples seek professional help. We are very open about the treatment and we work based on scientific evidence and the principles of safety and comfort.
You work with Spanish patients but also foreign patients thanks to your French and English skills. Is the patient profile any different?
I love seeing patients from other countries because you get to see a lot of different circumstances. When you have to talk in such a complex manner about issues with such a big impact on people's feelings, fluent communication is essential. In terms of the patients, French patients tend to be a little different, for example, because in France people are very conservative about matters of assisted reproduction and their assisted reproduction techniques are not so advanced. They come to Spain and to Instituto Bernabeu because of our prestige and experience. At Instituto Bernabeu, they are given all-round personalised treatment. They are assigned a doctor and a coordinator who speaks to them in their own language.