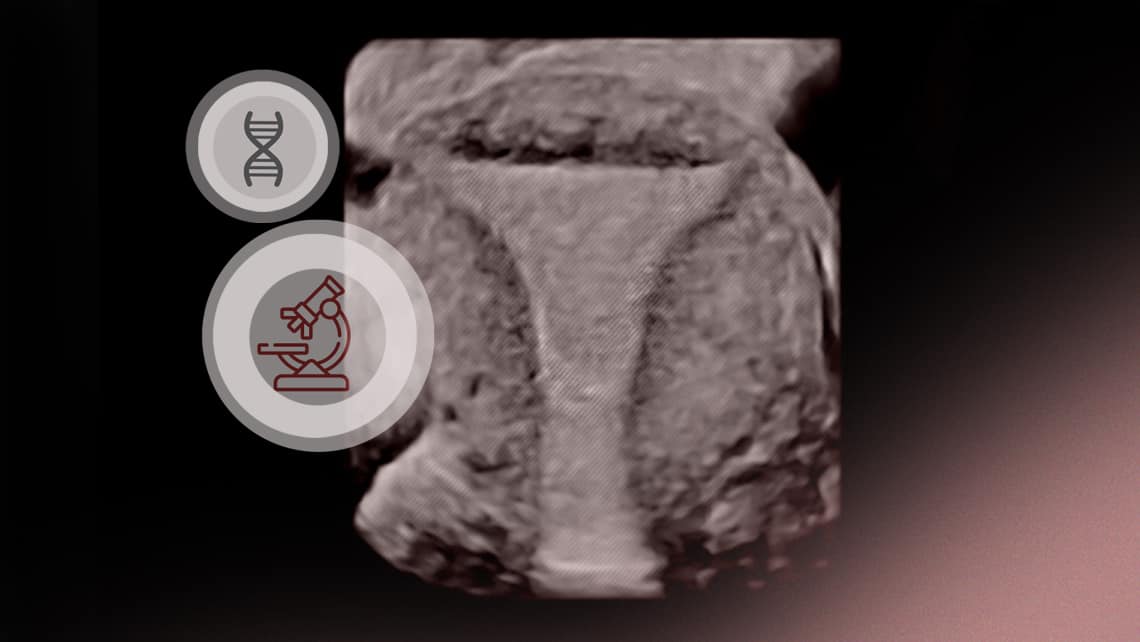 Endometriosis: New developments in its diagnosis (immunological and genetic markers)
Endometriosis diagnosis represents one of the greatest challenges in medicine today. To date there's still a diagnostic delay of 10 years from the time the patient has symptoms. This is because surgery has been considered the only definitive diagnostic tool for years, but now the paradigm has changed. Therefore, different tools have been and are being developed to be able to diagnose a patient with endometriosis.
What types of endometriosis can we find?
As endometriosis is a chronic, inflammatory disease, represented by different types, such as deep endometriosis or ovarian endometriosis, and as the disease can be at different stages, the search for a single diagnostic test is practically impossible. However, the scientific communities are updating their knowledge so that this diagnosis can be reached by means of a series of combined tests.
How can endometriosis be diagnosed?
Recently the European Society of Human Reproduction and Embryology (ESHRE) has developed a clinical guide in which the diagnosis of endometriosis can be made based on the symptoms the patient is suffering. At Bernabeu Institute we have developed a questionnaire that can help to suspect this pathology, which together with the consultation of the Endometriosis Unit would help to reach a definitive diagnosis.
Besides the patient's clinical symptoms, ultrasound has become the most useful diagnostic tool. It is therefore important to have a team specialised in the early ultrasound diagnosis of this pathology, which affects 1 in 10 women. At the Endometriosis Unit we have the most advanced ultrasound scanners with staff trained for this purpose, which provide an exhaustive pelvic assessment that allows early detection of the disease.
What kind of diagnostic tests are currently available?
Among the tests being developed, immunological and genetic tests are becoming increasingly important.
IMMUNOLOGICAL TESTS FOR THE DIAGNOSIS OF ENDOMETRIOSIS
Immunological tests with inflammatory biomarkers help us in clinical practice to confirm the suspected diagnosis. Instituto Bernabeu has developed a test in which it is possible to analyse different inflammatory mediators related to endometriosis. (More information about the study of cytokines)
GENETIC TESTS FOR DIAGNOSING ENDOMETRIOSIS
On the other hand, the scientific community has delved into genetic diagnostic tests based on molecules expressed according to inflammatory states and by different pathways, this is where we find micro RNA and non-coding RNA molecules. However, there's still no single molecule completely related to the diagnosis of endometriosis and it is necessary to perform panels with many different molecules for this purpose, which complicates the definitive diagnosis.
Although endometriosis has a probability of inheritance of up to 50%, no single genetic mutation or alteration has been found that, when transmitted, causes the disease; instead, several variations in genes have been studied and associated with the risk of the disease. Up to 14 genes with variations related to endometriosis have been found on 6 different chromosomes (chromosomes 1, 2, 6, 7, 9 and 12), although none of them is capable on its own of giving a definitive diagnosis of endometriosis.
However, within the Reproductive Medicine Unit it is possible to analyse the different variants of the APOE gene, which has recently been linked to endometriosis and the probability of miscarriage, providing an explanation for these patients.
Conclusion
In conclusion, early diagnosis of endometriosis should be based on the patient's clinical symptoms and a thorough ultrasound examination. Although immunological and genetic tests can confirm the suspicion, they can never rule out the diagnosis, and these tools are only considered as adjuncts.
Dra. Belen Moliner, gyneacologist at Instituto Bernabeu
IT MAY ALSO BE OF INTEREST TO YOU