The website of Instituto Bernabeu, distinguished in the "Fertility Care Awards" among the best online pages of reproductive medicine
November, 12th 2021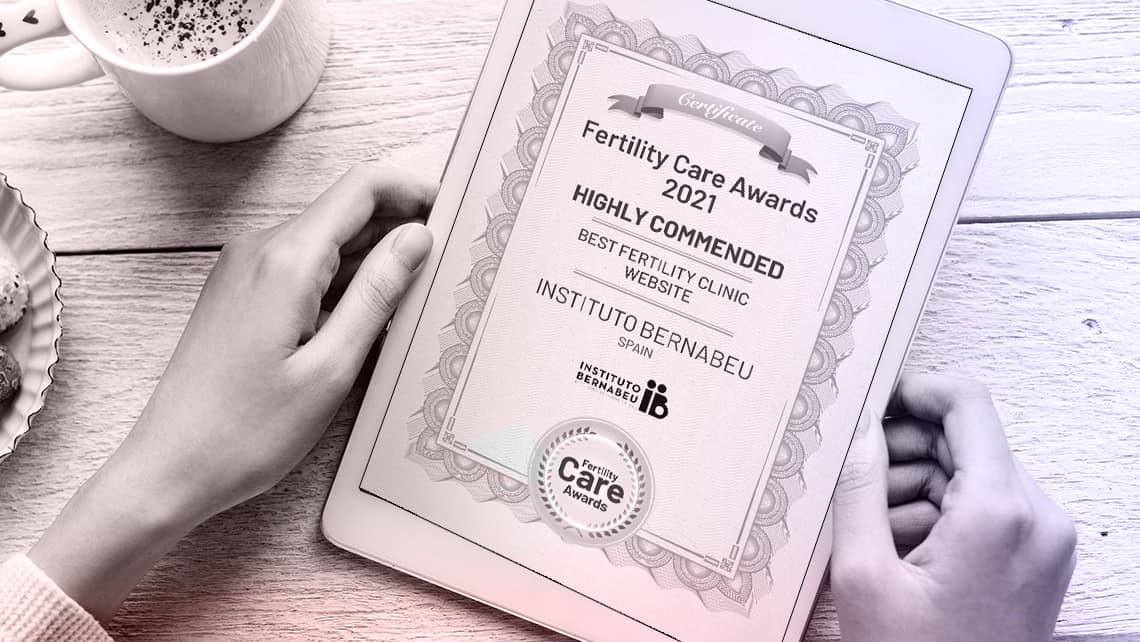 Our clinic is characterized by establishing a direct and comprehensive communication with the patient. This relationship of transparency we want to start before the patient's medical relationship even develops. That's why Instituto Bernabeuhas an informative, educational and corroborated web. Ground-breaking in the reproduction medicine field.
Our website has just been distinguished among the main international centers in the latest edition of the "Fertility Care Award". These awards are awarded annually by the European Fertility Society – formerly known as the IVF Awards, which recognize the work of clinics, companies and professionals related to assisted reproduction and fertility.
Is available in 9 different languages: English, Spanish, Italian, French, German, Norwegian, Arab, Flemish, and Russian and has since 2008 more than 39 million and a half visits.
Gives visitors corroborated and professional information about the main assisted reproduction main treatments and medical subjects related with infertility such as genetics, immunology, andrology, endocrinology and diets, etc. It has corroborated and professional written and visual content. This visual content (videos) is the preferred format and has more than 18.290.000 views of a total of 644 published videos.
Instituto Bernabeu website is an open window to all people looking for answers and solutions when looking for pregnancy. And it achieves this goal with a simple, intuitive and easy to help locate connected contents for those users looking for more information.
Furthermore, the visitor -either patient or health professional- has available different contact ways that, besides the Social Networks, which allows a bidirectional and flowing immediate communication.
Constant updating, perfect mirror of our philosophy, is also applied on our contents. We aren't only informing about therapy novelties and our history and trajectory bases, but we also share our investigation programmes and scientific works presented on the main field international congresses, training courses for reproduction medicine specialists, doctor's team interviews to put a human face in reproduction medicine, legal information, information to make your travel easier and a countless specific websites of great value for those interested in reproduction medicine.
One of the main sections from our website is our blog: Instituto Bernabeu blog is an element which is alive and is nourished every day, thanks to the articles written by our faculty.
In one hand, it is continually updated to offer information of interest on all those aspects involving reproductive medicine and share the latest scientific news. The contents are complemented with our own graphics and videos. Our blog covers the different subjects related with fertility, such as reproduction biology, immunology, endocrinology, genetics high risk pregnancy, urology, andrology, etc.
On the other hand, -because of a blog's inherent bidirectional communication- has a high participation. This is why we have questions everyday and answered as soon as they are posted. As per today we have more than 15.600 comments.
Our blog counts with more that 2.327 published posts. These are text drafted by our medical team, which makes each entry a renowned and reliable source of information. It also can be read in Spanish, English, French, German and Italian.
Statistics show that our blog is of great interest ad motivate us to keep working to increase the given information. In 2020 it reached the 3.721.375 visits and since 2013 has more than 28.553.503 visits.