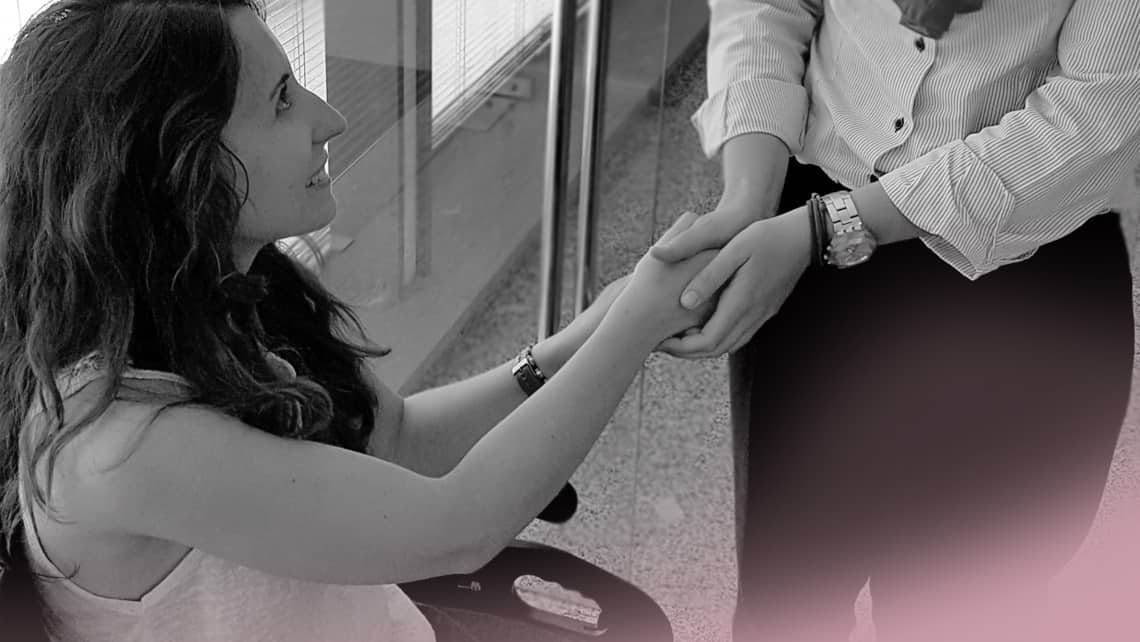 Reduced mobility and fertility
Reproduction issues always need to be dealt with with a degree of sensitivity. When there is also a disability within the couple, the emotional side of things calls for even greater care and steps should be taken in order to deal adequately with any implications the disability in question has from a medical point of view.
In 2006, the United Nations (UN) published guidelines on the rights of people with reduced mobility. These guidelines indicate disabled people's rights across all levels of society and include the right to have children and access to sexual health.
At Instituto Bernabeu, we aim to comply with the aforementioned guidelines and provide our patients with the means and solutions they need and which adapt to the circumstances of each physical disability. This covers disabilities resulting from a genetic condition (hereditary), disease or an accident and, from a fertility point of view, each case is given personalised treatment.
Progress in reproductive medicine techniques make possible to offer solutions and achieve the desired pregnancy. Functional diversity should not be an obstacle to become parents. This recommendation must be individualized. For this, you must plan and consult in advance with the specialist, listening to his recommendations.
The personalization of each treatment is especially relevant. The gynaecologist will evaluate the most appropriate technique such as artificial insemination with semen from the partner or donor, in vitro fertilization (IVF) or ICSI.
Clinic free of barriers
In order to ensure that our patients have access to healthcare which does not have any physical barriers, amongst other things, all our facilities are appropriately adapted, we have designated parking spaces, lifts, adapted gynaecology consultation rooms and operating theatres.
Furthermore, our facilities have the latest in devices in order to help in the sample-taking procedure whilst, at the same time, ensuring a person's privacy and not generating any impact on the original quality of the sample (electro-stimulation apparatus and adapted private rooms).
Personalization and specialization
Our team has been specially trained and provides personalised and specialised care. Patients are given appropriately adapted sex education, appropriate information, specific solutions and both professional and personal support.
Advice is given on all the matters the patient may need: methods of contraception, the most adapted fertility treatment and means of protection against sexually transmitted diseases, amongst others. These always include in-house protocols based on scientific evidence.
Genetics techniques at your service
In the case of congenital physical disabilities, using techniques such as Comprehensive Chromosome Screening (CCS) or Pre-implantation Genetic Diagnosis (PGD), at IB we are specialised in methods to ensure that they are not passed on to future generations.
Agreements with patients associations
Sensitive to the special needs of the group of people with disabilities, Instituto Bernabeu has had agreements with entities that work with people with functional diversity for years. In October 2020 we renewed the agreement with the Confederation of the Physically and Organic Disabled of the Valencian Community (COCEMFE) to make early diagnosis and prevention of genetic diseases more accessible.
We offer preferential care in tests such as the Preimplantation Genetic Diagnosis (PGD) of the embryo, in advanced studies such as the clinical exome for the correct diagnosis of the disease; and the genetic compatibility test (TCG). Economic advantages are offered in cycles of reproductive medicine and gynaecology, as well as in the overall treatment of pregnancy.
Vicente Ruiz, nurse at Instituto Bernabeu.