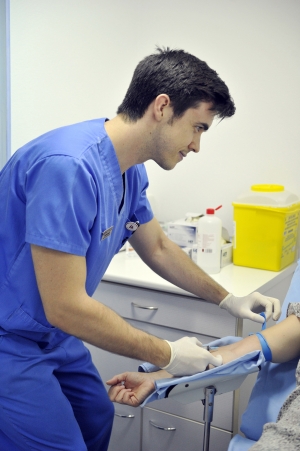 A more reliable means of detecting anti-Müllerian hormone and evaluating ovarian reserve
A new, much more reliable, faster technique (results are obtained in 3 days) has been incorporated into our clinic and, since it is carried out directly in our laboratories, it has brought the price down to €50. The technique is carried out on a blood sample which can be taken at our clinics or a sample can be sent to us by courier.
Determining anti-Müllerian hormone levels in a woman's blood helps us to evaluate ovarian reserve and, along with a transvaginal ultrasound used to carry out an antral follicle count, this provides us with information about her reproductive future and whether or not trying for a child is a matter of urgency.
It can also be used in order to personalise fertility treatment and to help predict how successful it is likely to be.
Cases of couples in clinics in which the female has impaired ovarian reserve are more and more common. A reduction in ovarian reserve of this kind might be expected in older women but not so in younger women, particularly when her menstrual cycles have not been irregular.
Therefore, for an assisted reproduction clinic such as ours in which personalisation of treatment plays a fundamental role, it is important to be able to determine anti-Müllerian levels in a very reliable manner.
Up until a few months ago, the technique available for evaluating this hormone was not very precise and we were faced with differences between analysis results and the antral follicles showing up in the ultrasound. As a result, on occasions, we would end up with conflicting results in terms of ovarian reserve. This led to a loss of confidence within the scientific community regarding the technique's usefulness and provided both doctors and patients with more uncertainties than certainties.
Given the importance of the issue, we studied it very carefully and have incorporated a different technique into our laboratories which means we are able to obtain reliable anti-Müllerian hormone results.
The advantages for our patients include:
Having a more specific technique which helps to guide us and to take more reliable decisions in terms of diagnosis and treatment.
Carrying out the analysis in our laboratories means we have greater control over handling and storing samples.
The analysis results are available in just a few days and this means we are able to arrange the next appointment with the gynaecologist in as short a space of time as possible. This, in turn, reduces the stress experienced by the couple.
Ours is a highly regarded reproductive medicine clinic and, as such, we have information on our patients' assisted reproduction treatments following anti-Müllerian hormone evaluation. Monitoring of this kind means we will be able to use our experience to help future patients.
In short, incorporating this recent technique into our laboratories is further proof of our continued commitment to improving our services and to providing our patients with the very best treatment which is personalised for each individual case.
Dr Ana Fabregat, pharmacist at Instituto Bernabeu