Instituto Bernabeu studies exome sequencing and genetic testing prior to embryo implantation to detect unexplained recurrent foetal malformations
July, 8th 2021
Instituto Bernabeu is faithful to its annual meeting with ESHRE, the most important European congress held annually. One of the 16 investigations presented at this meeting is Exome sequencing and preimplantation genetic testing for unexplained recurrent foetal malformations.
Foetal malformations account for approximately 3% of live births and causes include: chromosomal abnormalities, exposure to toxic substances or teratogens and infections. Recently, studies have shown that several monogenic diseases are linked to foetal abnormalities. Exome sequencing is widely used to detect genetic mutations and has emerged as a useful tool for finding the genetic cause of foetal abnormalities. Therefore, the aim of this study was to show how exome sequencing in patients suffering unexplained recurrent foetal malformations in combination to PGT-M could lead to a successful healthy new-born.
For this purpose, we studied a non-consanguineous couple with unexplained, recurrent foetal malformations. The couple had two malformed foetuses with the same congenital abnormalities: hydrocephalus, cerebellar vermis agenesis, cerebellar hypoplasia and enlarged cisterna magna. Exome sequencing was performed using TrusightOne (Illumina®).
An homozygous novel pathogenic mutation c.641 C>T (p.Ala214Val) in FVLCR2 gene was found. The parents were heterozygous carriers revealing that the detected variant follow an autosomal recessive pattern. Mutations in this gene are related to foetal central nervous system defects. This disorder is diagnosed prenatally and is lethal. PGT-M were used to select a healthy embryo and healthy baby was born. Exome sequencing in combination with PGT-M, can help couples with recurrent foetal malformations to have healthy new-borns.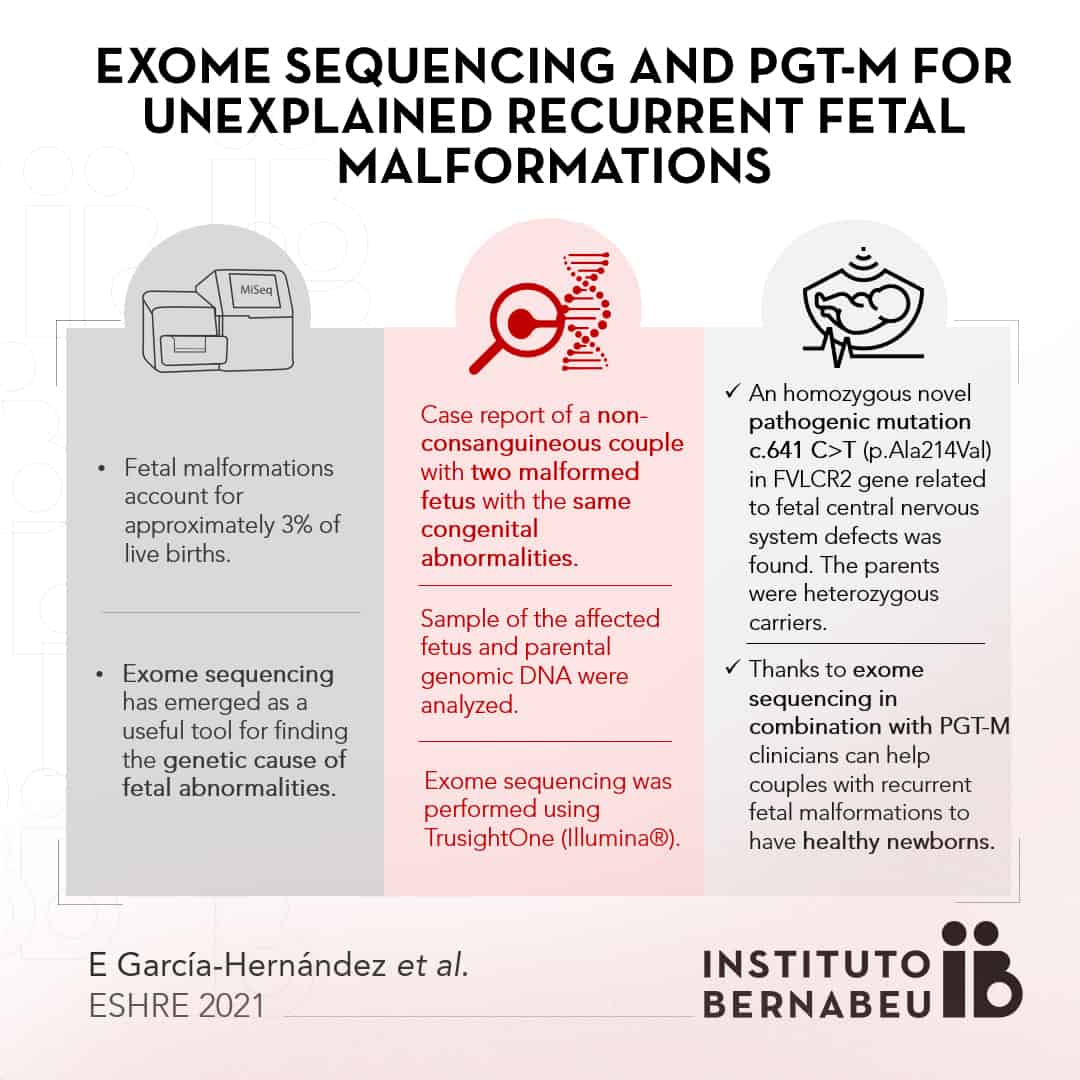 Exome sequencing and preimplantation genetic testing for unexplained recurrent foetal malformations
E. García-Hernández, R. Morales, B. Lledó, J.A. Ortiz, A. Turienzo, F. Lozano, A. Fuentes, J. Ll. Aparicio, A. Bernabeu, R. Bernabeu