Instituto Bernabeu Research: New classification of Adenomyosis
January, 4th 2016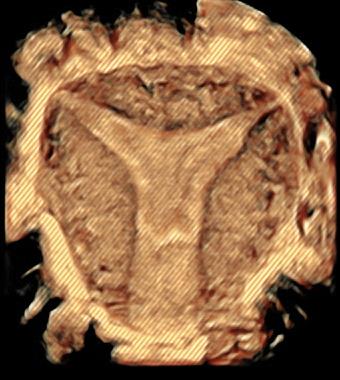 Adenomyosis is an entity with an unknown influence in implantation. Several studies achieve until 68% less pregnancy rate when adenomyosis is diagnosed, although another groups didn't see differences. Severity of adenomyosis could be influencing in this controversy. A new classification is needed to know the prognosis of these patients. 
This is one of the pieces of research work "New classification of Adenomyosis", which was accepted by the Scientific Committee at the British Fertility Society (BFS) for its Annual Meeting which will take place in Newcastle (UK) on 7th and 8th January, 2016.
In this research a retrospective was made selecting all adenomyosis patients diagnosed by 2D and 3D scan from January 2015 to July 2015, where 3D and 2D scan parameters together with clinical symptoms were use to classified mild, moderate or severe adenomyosis.
We classified 8 patients as mild adenomyosis, 13 patients as moderate adenomyosis and 14 patients as severe adenomyosis. In our patients we have seen that severe and moderate adenomyosis have achieved more years of sterility and more embryos transferred. We haven't find differences in terms of live birth rate in despite of clinical differences although the risk of repetead miscarriage (2 or more miscarriage) is increased regarding of severity of adenomyosis.
This new classification could be useful to know the prognosis of patients. The risk of miscarriage in patients with severe adenomyosis should be advised.
"NEW CLASSIFICATION OF ADENOMYOSIS". Póster. Moliner B, Ll. Aparicio J, Sellers F, Bernabeu A, Baviera P, Bernabeu R