Instituto Bernabeu addresses AI and the future of IVF laboratory at the Innovation and Future of Assisted Reproduction Conference
May, 5th 2023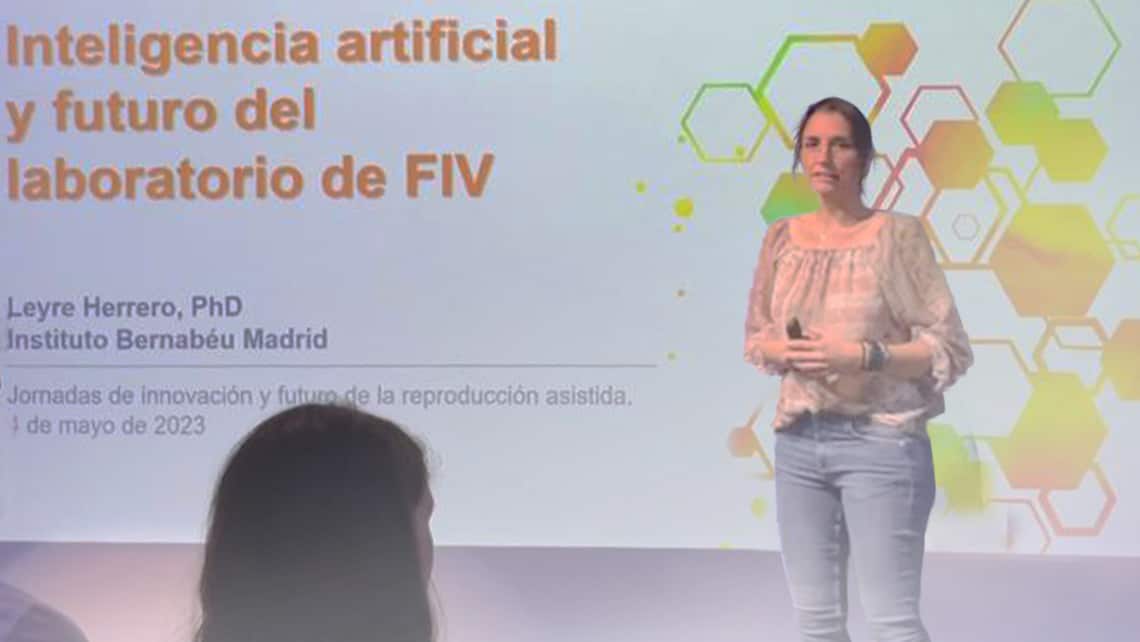 As a leading institution and looking towards research and Artificial Intelligence projects applied to reproductive medicine, Instituto Bernabeu was present at the Innovation and Future of Assisted Reproduction scientific meeting on May 4th to discuss AI and the future of the in vitro fertilisation (IVF) laboratory.
Leyre Herrero, embryologist and head of the in vitro fertilisation (IVF) laboratory at Instituto Bernabeu Madrid, gave a talk as part of the conference for assisted reproduction professionals organised by CooperSurgical.
The IVF laboratory is a key element in an assisted reproduction treatment and, in order to achieve success in each treatment, it is essential to combine human and technical excellence. Currently, AI applied to the IVF laboratory brings countless challenges and transformations focused on improving current processes and achieving better success rates for patients.
After explaining some of the work Instituto Bernabeu has developed based on AI and machine learning, Leyre Herrero pointed out the fact that this is a tool that can help to improve the diagnosis accuracy and efficiency, gamete and embryo selection and embryo tracking. "At Instituto Bernabeu we are evaluating and implementing cutting-edge technological solutions, based on AI, which can help us widen our knowledge of what we call the third patient in any fertility treatment, the embryo".
The embryologist has reviewed four decades of the embryologists' work and the changes that have taken place, then stops at present time where "technology and the processes automation does not mean the end of the embryologist role".
With the help of AI, specialists can identify patterns in large data sets and predict fertility treatment outcomes, which can significantly improve IVF success rates. It is also possible to detect genetic problems and embryonic malformations more accurately than with traditional methods. Herrero explains that, far from having a negative impact, the aid of technology allows the embryologist to add value to clinical activity, given that, among other factors, the time spent on potentially automated tasks can be devoted to patients. "Our work has evolved significantly over the last 20 years. Today, the technological revolution is pushing us to evolve again and that, at Instituto Bernabeu, is an exciting challenge for all of us".
"These 40 years, the embryologists have been in constant adaptation because evolution has been very rapid. Until recently we made our own culture media, our own aspiration systems, we transferred 2 and 3 embryos, and now all that is unthinkable. The success rates have increased a lot, we always transfer one embryo, always at blastocyst stage. Culture conditions, quality control, all has changed a lot. We now feel surer of ourselves when working and all the protocols are optimised" explains Leyre Herrero and emphasises that "thanks to automation and artificial intelligence we will be able to optimise and maximise safety and quality within the laboratories".
AI at Instituto Bernabeu
Instituto Bernabeu has a recognised track record in scientific research based on AI applied to reproductive medicine. The work of its professionals with the use of this technology has been highlighted in recent years in the most important congresses and international publications. The objective of the Institution, as highlighted by its medical director, Dr Rafael Bernabeu, is "to provide society with AI-based solutions, scientifically proven, resulting in improved success rates in our patient's treatment". In turn, the Group promotes research that contributes to international scientific progress in this field and its team of scientists also works to validate different technologies aimed at improving knowledge of the three patients involved in fertility treatment: woman, man and embryo.
The Group of clinics prestige specialising in reproductive medicine and led by doctors Rafael and Andrea Bernabeu, attracts patients from all over the world every year, specifically from 137 countries. It has 9 clinics, in Alicante, Palma de Mallorca, Albacete, Cartagena, Elche, Benidorm and Venice and recently, we opened a second one in Madrid.