Instituto Bernabeu presents a study at the genetics congress in Paris that reveals maternal age has no influence on the appearance of mosaicism in the embryo.
April, 25th 2023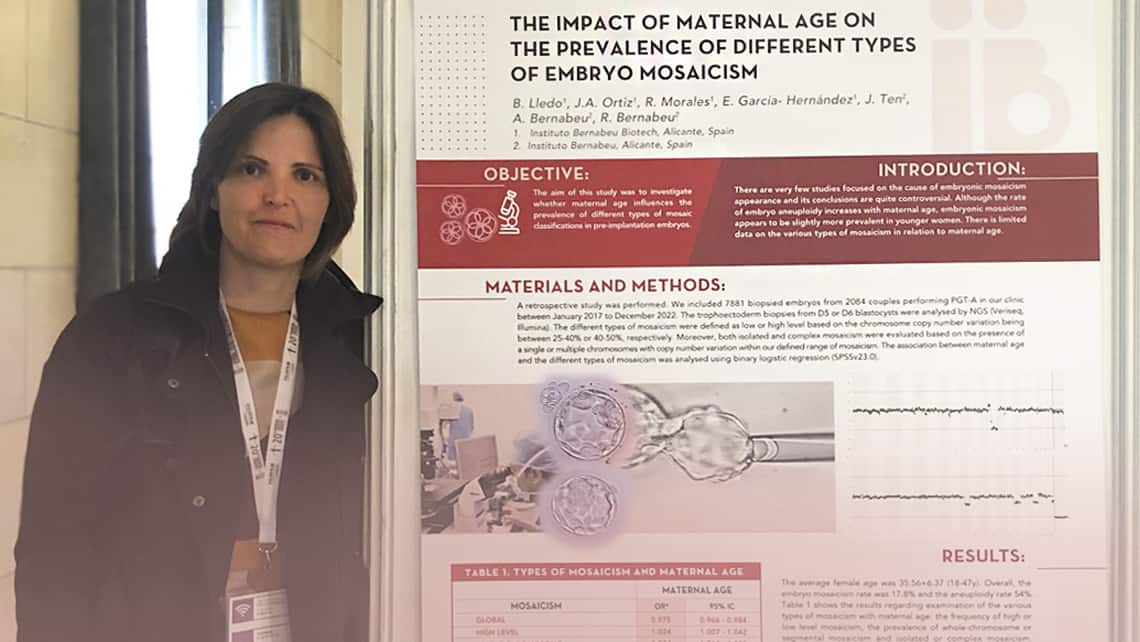 Instituto Bernabeu has been present at the 20th International Conference on Preimplantation Genetics, held from 17th to 19th of April in Paris (France), organised by the Preimplantation Genetic Diagnosis International Society (PGDIS). An annual event the IB Group attends presenting research work in the field of genetics and fertility. On this occasion, with the presentation of a research in poster format, led by the IBbiotech genetic laboratory scientific director, Dr Belén Lledó, under the title "The impact of maternal age on the prevalence of different types of embryo mosaicism".
Embryonic mosaicism is caused by errors in the separation of chromosomes during embryo division and implies a mixture of chromosomally normal and abnormal cells in the embryo, for one or several chromosomes. It is detected when, in an in vitro fertilisation (IVF) cycle, preimplantation genetic testing for embryo aneuploidy (PGT-A) is performed.
Previous studies estimate that 20% of human embryos present chromosomal mosaicism. And according to research carried out at Instituto Bernabeu, embryos diagnosed as mosaic have a slightly lower capacity to implant and to give rise to an evolving pregnancy than those that do not. In fact, their conclusions show that these embryos have higher percentage for early miscarriages than normal embryos, and approximately 30% result in a viable pregnancy.
To carry out the research presented at the Paris congress, 7881 biopsied embryos from patients with an average age of 35.5 years were analysed. And after the complex analysis, in which different parameters were taken into account, the researchers concluded that embryonic mosaicism does not increase with maternal age.
However, the research does warn that although older women are not at higher risk of mosaicised embryos compared to younger women, there is a worse reproductive outcome in older patients, as mosaicism gets more complex.
The congress at which this Instituto Bernabeu study was presented aims to coordinate research, education and training in pre-implantation genetic testing (PGT), which requires close collaboration between obstetricians, fertility specialists, embryologists and human geneticists, to ensure the safety and accuracy of PGT and its application in clinical practice for the improvement of genetic practices and reproductive medicine.
The impact of maternal age on the prevalence of different types of embryo mosaicism
B. Lledó, JA. Ortiz, R. Morales, E. García-Hernández, J. Ten, A. Bernabeu, R. Bernabeu