Dr Andrea Bernabeu discusses embryo selection through artificial intelligence at the 2nd European AI Forum in Alicante.
November, 15th 2023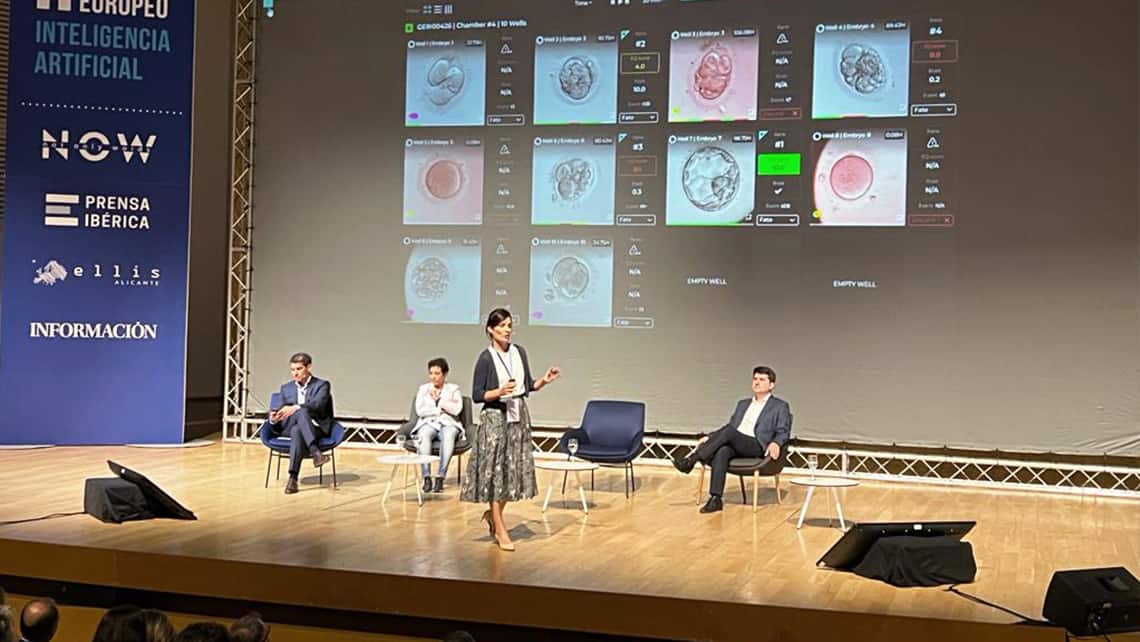 Instituto Bernabeu medical codirector, Dr Andrea Bernabeu, participated for a second consecutive year in the 2nd European Forum on Artificial Intelligence in Alicante, held in the ADDA Auditorium last Wednesday, 4th of October. This congress was organised by Diario Información, Prensa Ibérica, Encuentros Now and ELLIS Alicante, and focuses on the AI Impacts, Implications and Challenges for the advancement of Humanity.
Dr Bernabeu spoke about the application of artificial intelligence in reproductive medicine, and specifically in embryo selection. This is one of the lines of study developed by Instituto Bernabeu, whose study of AI tools focuses on the three patients involved in a fertility treatment: the woman, the man and the embryo. The clinic is a pioneer in the world by creating the first International Artificial Intelligence Unit applied to Reproductive Medicine.
Increasing pregnancy rates is one of the treatment's main objectives. Hence, one of the research lines is to detect the embryo with the best implantation chances. The research carried out in the embryology unit, directed by Dr Jorge Ten, evaluates the effectiveness of AI in the selection of embryos cultivated in timelapse incubators in the in vitro fertilization (IVF) laboratory. In this case, technology helps embryologists in the selection process of the embryo most likely to implant in the mother's uterus. The efficacy of the algorithm has been certified in more than 3,000 embryos and, today we know that for 20% of patients with low response, this tool will make it easier for them to achieve pregnancy.
"Our timelapse incubation system have allowed us to obtain a huge amount of data on embryo development, which is very difficult for a human brain to access, so we should use AI. This way we would also avoid the human cognitive biases that make us decide on primary information", explained Dr Bernabeu in the forum.
The co-founder of the world's first AI unit in reproductive medicine participated in the event together with the National Epidemiology Centre, Carlos III Research Institute director, Tania Cedeño; and the president of the World Union of Chemistry and member of the World Economic Forum, Javier García Martínez, at a table moderated by the Encuentros Now president, Manuel Bonilla.
By participating in this Forum, Instituto Bernabeu continues to lead the way in reproductive medicine by taking advantage of advances in Artificial Intelligence to offer more effective and personalised treatments, thus improving its patients health and well-being.