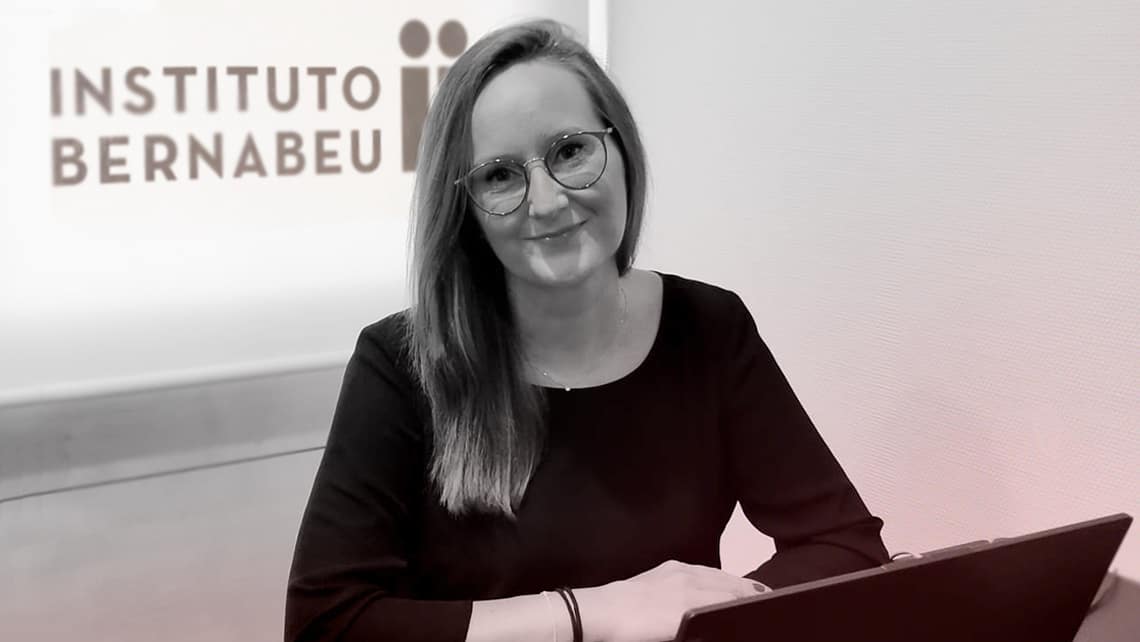 "We offer Italian patients not only personalised treatment, but also a professional approach that comes from growing in scientific excellence"
Instituto Bernabeu coordinator in Venice, Ms Sara Dalla Costa, is a lawyer specialised in Bio-Law. From the beginning, she has confronted complex legal cases and issues, which has given her a very specific perspective of her profession. She has been trained both in Italy, her country of origin, and in Spain. In 2022 she successfully completed the first year of her PhD at the University of Deusto (Bilbao). On her way to completing the course, she was already working on several scientific articles focused on the field of bioethics and Bio-Law.
Her extensive knowledge of Spanish and Italian legislation on assisted reproduction is of fundamental value to Instituto Bernabeu and its patients. With her doctoral research, she aims to analyse in depth the legal consequences faced by reproductive medicine according to current legislation.
You are a lawyer specialised in Bio-Law, what motivated you to specialise in reproductive medicine?
I took part in the Bio-Law course when I was a student at university. I discovered the law area where one has to deal with cases related to human life and its legal implications, which come from the medical sciences and the technological evolution that characterises them. Years ago, these problems did not exist, as it was nature itself that decided on the beginning or the end of life. Today, technology and science can raise dilemmas, questions related to ethics, to the deep beliefs of each of us. I am passionate about Bio-Law because it is a subject in continuous evolution. On the one hand, it moves according to scientific and technological advances, and on the other hand, it is inspired by collective sensitivity.
You are currently the coordinator of Instituto Bernabeu Venecia, what is your role and is there any aspect of your work that particularly motivates you?
My job consists, on the one hand, in making all the departments of the clinic work in an optimised way and, on the other hand, in being the main link between the corporate headquarters of Instituto Bernabeu and the Italian headquarters. I enjoy working as part of a team and transmitting the Instituto Bernabeu philosophy, its search for excellence in work and honesty towards patients and colleagues. I strive every day to ensure that Instituto Bernabeu Venecia has a good working environment and a place where workers and patients are happy to come.
From your contact with patients, could you explain us what the Italian patient is like and what Instituto Bernabeu Venecia offers her?
The Italian patient has many doubts when facing reproductive medicine. These doubts are reflected in anxieties and worries. This is a direct consequence to the fact that most of the treatments, such as gamete donation or pre-implantation diagnosis, have been forbidden until recently in Italy. The team at Instituto Bernabeu Venecia offers Italian patients not only personalised treatment, but also exquisite medical and healthcare professionalism from the very beginning. Our work is mostly based on treating each case as unique. The scientific and research excellence that we practice provides a great deal of security to the patients who choose us.
If the treatment needed by the patient is not possible in Italy, what options do they have?
In Italy, for example, to treat single women or homosexual couples it is forbidden. When these patients, either alone or with their partners, come to us with the desire to start a family, we advise them about treatments outside Italy and the options of being treated in our clinics in Spain. In any case, we all hope that there will be a legislative reform as soon as possible, as it is evident that there is a slow evolution in this area. The road ahead for Italy is still long, but necessary.
Spain is a very advanced country in terms of legislation on assisted reproduction, where does Italy stand today?
The Italian situation, as I said, is quite complex. We have a law that has been literally battered by rulings from different courts. Currently, the Italian legislature does not have among its priorities a reform of the law on assisted reproduction, which means that professionals in the sector are in a state of uncertainty. Spain, a pioneer in fertility, is an example, a successful model to which we have to turn when conflicts or complex cases arise.
As a pioneer of reproductive medicine in Spain, what is Dr Rafael Bernabeu' contribution to your research and what is his vision?
His contribution is essential. He is a professional with more than 40 years of experience in the search for individual solutions. Spain is more advanced than Italy and he has already faced and sought solutions to the cases we now have here. He has a great deal of practical experience and brings us a very valuable insight. Dr Bernabeu has contributed to the progress and development of Spanish society in the field of fertility and his collaboration and support is of great value to my work.
You are currently working on a doctoral thesis comparing both legislations, what does this study consist of, and do you think this work can be useful in helping patients?
My studies are focusing on the most particular aspects of the Italian regulatory landscape. We have to take into account that more and more couples are seeking treatment, either in Italy or abroad. I will first analyse the legal status of the embryo in Italy, compared, in certain points of the law, to a person. I will then focus on the difficult, and in almost all cases impossible, access to assisted reproduction techniques for single women and homosexual couples. I will elaborate an analysis of the wrongly called "reproductive tourism" due to surrogate motherhood and, in addition, issues related to gamete donation, since Italian centres, within this social and legal framework, are always obliged to be assisted by foreign centres. I hope my study contributes in raising awareness of these issues and to scientific dissemination. And, of course, that it will clarify some doubts for professionals in this sector.
Fortunately, Dr Rafael Bernabeu has reviewed my entire thesis project, providing valuable advice based on his experience. I am convinced that the conclusions drawn will be very useful for professionals interested in this field of study and, of course, for patients.