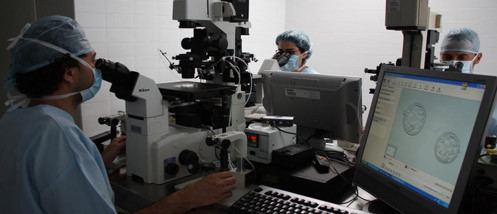 Instituto Bernabeu begins research on a new treatment for patients with poor ovarian response
From January 2016, Instituto Bernabeu will work on a clinical trial (free to participating patients) with the aim of evaluating the efficiency of a line of treatment in patients with poor response to ovarian stimulation.
The research, which has already been approved by the Spanish Drug Agency and has been published in the USA National Health Institute register, involves comparing ovarian response to two different stimulation protocols. One is conventional with drug administration starting at the beginning of the cycle. The other, new procedure carries out stimulation once it has been confirmed that the patient is ovulating.
Patients diagnosed as having 'poor response' may be considered for participation in the study. That is, patients who have undergone one in vitro fertilisation treatment cycle in which a low number of eggs were obtained.
It is becoming more and more common to come across women with poor response who undergo in vitro fertilisation treatment. This is one of the greatest challenges for specialists in assisted reproduction.
The research, carried out by Instituto Bernabeu and financed in its entirety by the Rafael Bernabeu Foundation, will be coordinated by the  Poor Ovarian Response Unit in IB.
Patients participating in the study will undergo ovarian stimulation controls with egg collection and posterior vitrification free of charge.
Analysis of the trial results will help optimise stimulation protocols in these patients, thus improving results and avoiding unnecessary stimulation processes.
To found out the next topics for our forum: follow us on facebook or twitter.
You can arrange an online consultation or book an appointment at Instituto Bernabeu.
More information on our website: www.institutobernabeu.com or www.ibbiotech.com