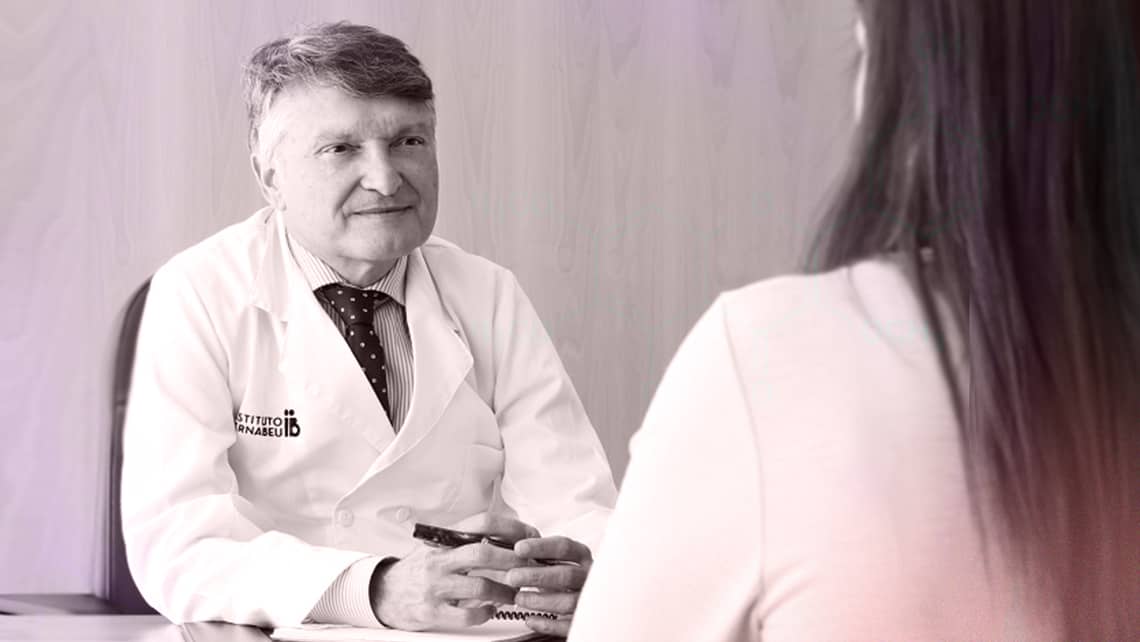 5 indicators that the time has come to visit a fertility clinic
Infertility was a taboo subject until just a few years ago but nowadays it is common practice to turn to a reproductive medicine clinic for help when women are facing issues having children naturally. Instituto Bernabeu wants to give you a few rules of thumb for knowing when the time has come to visit a fertility clinic. This does not necessarily mean that you will embark on a long course of treatment and it is possible that there will be a simple remedy for the issue. However, if it is a more complicated matter, thanks to continuous studies and research, Instituto Bernabeu has specialist units aimed at working on complex cases. It is for this reason that it has leading units such as the Poor Ovarian Response Unit, the Implantation Failure and Recurrent Pregnancy Loss Unit and the Endometriosis Unit, amongst others.
Age
This is one of the most significant factors. From 35 years of age onwards, if a woman does not get pregnant after having tried for between 4 and 6 months, it is best to avoid wasting time because the clock is ticking. Fertility levels start to decrease. If a woman over 40 years of age is attempting to gestate, she should not waste a minute because her options are decreasing. Each case is assessed individually using tests to determine why the patient has not got pregnant and what we can do to help.
Pregnancy loss
If you have had more than one pregnancy loss, pregnancy should not be left to chance. Put yourself in the hands of specialists with experience in recurrent pregnancy loss and implantation failure. Based on its experience in healthcare, Instituto Bernabeu recommends turning to a cutting-edge clinic that specialises in complex cases and that can provide personalised analysis and assessment. Instituto Bernabeu has had a top team of specialists for the last three decades. This includes not only gynaecologists but also endocrinologists, molecular biologists, geneticists and embryologists so that an all-encompassing response to complex cases can be provided.
A family background of infertility or suspected abnormalities
Genetics can be key in these cases and waiting will not do any good. If you wish to get pregnant, we recommend going to a reproductive medicine clinic. Instituto Bernabeu has a team with experience in research and genetics and it steers clear of standardised courses of treatment. Genetic analyses can be used to uncover many of the issues behind infertility both in women and in men. Understanding what the issue is means that it can be addressed and treatment can be personalised. In 2016, the fertility clinic took a huge step forward in reproductive medicine when it applied pharmacogenetics to poor ovarian reserve, adapting each woman's medication to suit her genes and with the aim of achieving a pregnancy.
Gynaecological issues
Endometriosis, premature menopause, ovarian failure, polycystic ovaries or structural abnormalities in the uterus, amongst other issues, are causes of infertility and experts in reproductive medicine can help patients to try and get over the hurdles that are keeping maternity at bay.
Male infertility
Diseases such as mumps can decrease chances of pregnancy. If your partner has had a vasectomy, you should turn to a specialist clinic. Progress in the field of science has facilitated development of techniques such as in vitro fertilisation (IVF) and ICSI which, combined with sperm retrieval techniques, can make getting pregnant without using donor sperm possible when the cause of infertility is in the male partner.
Visiting a reproductive medicine clinic is the best way to avoid wasting time when a couple wishes to get pregnant but is unable to do so naturally. Thousands of women have placed their trust in Instituto Bernabeu over the last three decades. In 1988, the clinic achieved the birth of the first child by IVF in the Valencian Community and it has made it possible for parents with serious hereditary diseases to give birth to children who are free from those diseases. Instituto Bernabeu It has nine clinics throughout Spain, in Ayala Street, in the Salamanca district of Madrid, and in Velázquez Street, also in Madrid, the head office is in Alicante and there are additional clinics in Venice (Italy), Palma de Mallorca, Albacete, Cartagena, Elche and Benidorm. It has in-house laboratories and operating theatres. It has cutting-edge and innovative technical means and a team of doctors and staff who specialise in infertility issues with specialist units that deal with poor ovarian response, implantation failure and recurrent pregnancy loss, as well as endometriosis, amongst other issues. Its in-house laboratories mean that, as well as obtaining test results immediately, it can perform genetics and molecular biology analyses.  At Instituto Bernabeu, everybody is different, each case is personalised and the reasons for the failure to get pregnant or the failure to have a successful pregnancy are addressed. The clinic's aim is the same at the patient's aim: pregnancy.