Thousands of foreign couples choose summer season to undergo fertility treatment in Spain
July, 14th 2023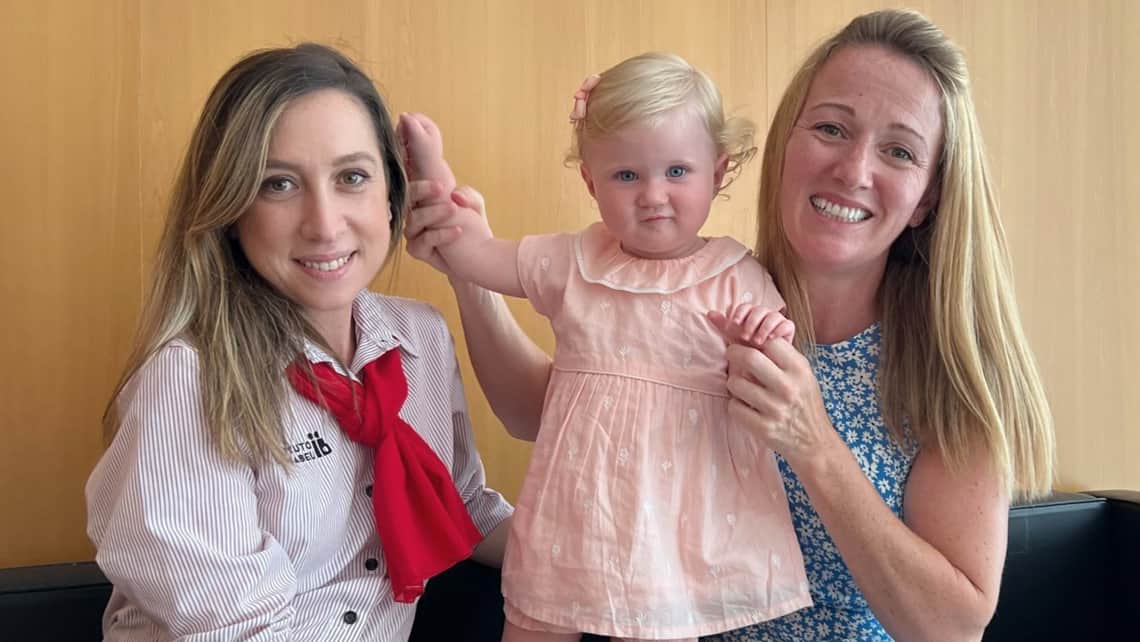 55% of patients at Instituto Bernabeu Group come from 140 different countries and consultations have doubled since the pandemic.
National reproductive medicine quality and the difference in legislations are the main causes
Victoria Ross and Amanda Elizabeth Masson don't know each other, they don't even live in the same city, but they do have a lot in common. They are both mothers of two babies born after fertility treatment in Spain. Both of them chose Instituto Bernabeu to become pregnant after a long history of unsuccessful attempts in their home countrie and have returned to Spain because they want to repeat the experience and expand their families. In addition, they have returned to our country to have part of their treatments done this summer.
There are many reasons why thousands of patients from all over the world travel to Spain for fertility treatments. Spanish reproductive medicine is one of the most highly valued in the world. This is confirmed by the 13,588 women who travelled from abroad in 2020 to undergo fertility techniques, according to the latest data from the Spanish Fertility Society (SEF) registry, which annually collects information from Spanish clinics. Our medical professionals high level and the advanced diagnostic and clinical techniques make the difference, as recognised by the scientific committees of the world's most relevant congresses on human reproduction, where Spanish scientists stand out year after year.
On the other hand, current Spanish law 14/2006 represents a scientific and technical advance with respect to the rest of the legislations in force in our surrounding countries, and today it continues to be a reference, both for the techniques it regulates, as well as for its users or recipients. Specifically, many of the patients who come to Instituto Bernabeu's clinics do so because in their own countries they do not have access to certain treatments to have a baby or carry out some diagnostic tests. This is the case, for example, of single mothers, lesbian couples or future parents who wish to access a safe and anonymous egg or sperm donation programme; or who are looking for genetic answers they cannot obtain in their countries of origin.
Destination is undoubtedly a factor to keep in mind when choosing a clinic. Spain, in addition to the already known virtues such as climate, culture, gastronomy, etc., has excellent flight connections, which increase in the summer season; this fact has even boosted the increase in patients from countries such as the United States, who also add the economic factor to their list of pros when it comes to undergoing fertility treatment in Spain. "More and more American patients are visiting us, the direct connection with Palma de Mallorca or Madrid motivates them to come to our clinics for new treatments that were unsuccessful or are financially inaccessible in their home countries", explains Dr Andrea Bernabeu, Instituto Bernabeu Group medical co-director, who has been treating thousands of international patients for years. "It is common to hear our patients say that they perceive the high degree of dedication and commitment we offer them here, they love our climate and the possibilities of our environment ", she adds.
A very advanced legislation
As a world leader in reproductive medicine, Spain has very advanced and specific legislation that regulates it. Treatments are carried out for women without a partner, something not possible in Italy, for example. Also, different techniques for female couples to become mothers, which are forbidden in this country, and wwere, until 2021, forbidden in France are performed; and Norway approved treatments for lesbians in 2020.
The Law grants pre-implantation genetic diagnosis techniques to determine whether an embryo is healthy before implanting it in the future mother's womb, something that is not permitted in countries such as Germany. In our country there are strict regulations for gamete donation which, by law, is anonymous and altruistic, whereas in other countries such as the United Kingdom, Switzerland, Ireland, Holland, Norway, Germany and Denmark, there is no anonymity; this gives us the possibility to carry out techniques that include egg donation or embryo adoption.
According to data from Instituto Bernabeu Group, currently more than 55% of treated patients are from abroad. Women from 140 countries, some as far away as Nepal, the Cayman Islands, Bahamas, Namibia and Thailand, come to one of its 8 national clinics, two of them in Madrid, Palma de Mallorca, Alicante, Albacete, Cartagena, Elche and Benidorm.
"We have noticed an increase in international patients, mainly from Europe, but also from other countries", says Dr Andrea Bernabeu, who recognises that summer is the perfect season for many patients because they coincide their treatment with their holidays and it allows them to reconcile more easily. The expert adds that, among the main motivations for traveling to Spain are "the high success rates, the current legal framework and destination".
Failures in their home countries
The patient profile is heterogeneous and the common link for most of them "is the length of time they have been looking for pregnancy, because many have already undergone treatment in their own countries, but were unsuccessful, and they come with a great deal of emotional suffering. These are people we must treat with even more affection if possible", stressed Dr Bernabeu.
She adds that "our patients also value the quality and safety of the destination, and the options offered by the surroundings to be relaxed and able them to focus on their treatments". At present, the most demanded treatments by international patients are egg and sperm donation; single motherhood; treatments that require very specific genetic tests and treatments for female couples. The doctor is very clear about the so-called "reproduction tourism" when talking about patients who resort to reproductive medicine in Spain. "To speak of reproductive tourism is a frivolous and improper term, because although many travel in summer, we are talking about medical treatments for people who come with an important emotional burden and not on holiday".
More patients from the pandemic
One striking fact is that, since pandemic, the number of women undergoing fertility treatment from abroad at the Instituto Bernabeu clinics have been exponentially increasing and, since 2019, has doubled. "Every year we attend several thousand of new patients who look to us for professionalism, research and medical quality. They highlight the human warmth with which they are treated. For us it is very important that, in addition to speaking with them in their own language, they know we are going to treat them with honesty, without giving false expectations", explain Dr Bernabeu.
"I would tell to others not to be afraid to come to Spain"
Amanda Elizabeth Masson highlights precisely the egg donation programme that has allowed her to become a mother. Now she is living the experience again because she still has two embryos cryopreserved in Alicante. She sums up what could be the most representative experience of many international patients. "In Glasgow they were efficient and kind, but we felt that it would be better here because in Spain treatments are more advanced, there is much more knowledge, the egg donation is very good and it worked and I am convinced that it is because of the expert hands and the quality of the tests they have done", she says. "I would tell other couples not to be afraid to travel, that the experience is definitely different and positive. Language is not a barrier and the attention in Spain is fantastic".
Victoria Ross, from the UK, says that compared to her country it is like talking "night and day" in terms of medical quality and care. She now recommends her friends not to waste their time and to come to Spain if they are looking for a baby. "We have received a very professional care, with a team that is honestly concerned about you achieving your goal. And that's what happened to us and here she is", she says as she cuddles her baby, a blonde baby girl with intense blue eyes called Harriet.