"The impact of assisted reproduction on women". Presented by Dr Jorge Ten in the "IX Conference on Women, Biology and Health" at the University of Alicante.
November, 9th 2009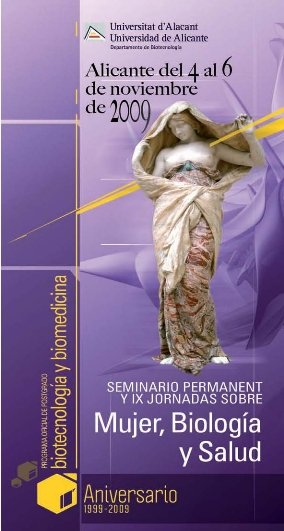 The conferences, in its IX year, have as their goal the analysis and detailed study of principle biomedical, social and cultural aspects which affect women today.
Led by Dr D Joaquín De Juan they form part of the official postgraduate programme, "Biotechnology and Biomedicine" at Alicante University which coincides with its 10th anniversary. The conferences are recognised with 3 study credits for students at UA and will take place on 4, 5 and 6 of November in the auditorium at the University of Alicante.
Instituto Bernabeu and its Foundation collaborate as sponsors and scientific committee with the particicpation of Drs Rafael Bernabeu and Jorge Ten.
Dr Jorge Ten will give his conference, "The impact of assited reproduction on women" on Friday, 6 November at 09:00.

 For further information.
*Dr Jorge Ten has been managing the Reproductive Biology Department at Instituto Bernabeu since 2001 although he has been with the Institute since 1997 after completing his studies on the effect of antioxidant therapy on the loss of reproductive potential.