IB Research: Does blastocyst biopsy affect to the implantation potential of frozen-thawed chromosomally normal embryos?
December, 23rd 2015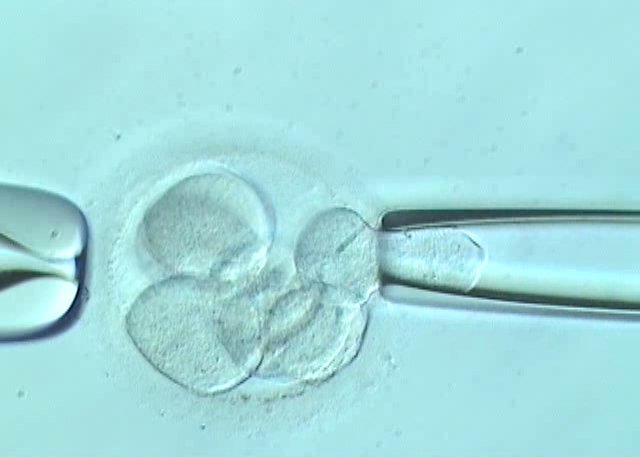 Blastocyst biopsy for Comprehensive Chromosomal Screening (CCS) treatments can be addressed through different strategies. When biopsy on D+5 is performed, fresh transfer on day 6 is possible. There is also the option of freezing the embryos after the biopsy to delay the embryo transfer if circumstances such as inadequate endometrial preparation or high progesterone levels require it. The aim of this study is to determine which of these two strategies show better outcomes. Two groups were created depending whether a biopsy on day 5 and transfer on day 6 was performed.
After performing a logistic regression no differences were found between groups on pregnancy test and clinical pregnancy rate. Embryo freezing programs have reached high levels of survival rates and clinical outcomes during last years but inclusion of CCS on blastocyst stage make necessary an exhaustive follow up of biopsied embryos in order to confirm that biopsy process does not compromise their potential to survival or implant.
Although more extensive studies are necessary, these results are reassuring showing that freezing embryos after the biopsy and to perform a delayed transfer does not impair the final outcome of the CCS treatment.
This is one of the pieces of research work carried out by Instituto Bernabeu which was accepted by the Scientific Committee at the British Fertility Society (BFS) for its Annual Meeting which will take place in Newcastle (UK) on 7th and 8th January, 2016.
DOES BLASTOCYST BIOPSY AFFECT IMPLANTATION POTENTIAL OF FROZEN-THAWED CHROMOSOMALLY NORMAL EMBRYOS? J. Ll. Aparicio, MC. Tió, J. Ten, A. Rodríguez-Arnedo, J. Guerrero, R. Bernabeu. Poster.