A study by Instituto Bernabeu recommends the use of the preimplantation genetic test (PGT) to detect cryptic chromosomal translocations and identify the cause of pregnancy loss
September, 1st 2021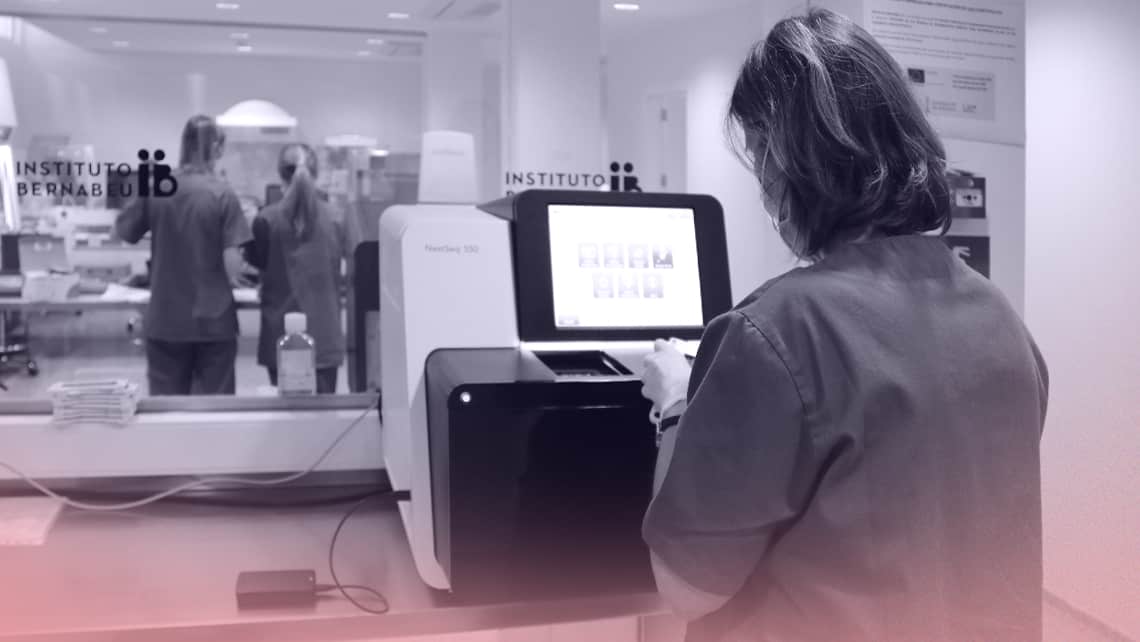 Chromosome translocations are frequently associated with birth defects, spontaneous early pregnancy losses and infertility. However, submicroscopic traslocations (so-called cryptic traslocations) are too small to be detected by conventional karyotyping. Thus, cryptic traslocations detection is challenging. Researchers from Instituto Bernabeu have presented at the 37th congress of the European Society for Human Reproduction and Embryology (ESHRE) a study with the aim of investigating the feasibility of using the preimplantation genetic test (PGT) as an indicator of cryptic translocations balanced by parents.
We included three couples who underwent PGT for unexplained repeated pregnancy loss (RPL). Twenty-three embryos from those couples were biopsied at blastocyst and analysed for CNVs (copy number variations) detection using low coverage whole genome NGS. Overall, CNVs of terminal duplication and deletion that imply unbalanced traslocation derivatives were detected in the 43.5% of biopsied embryos. The size of CNVs detected ranges from 8Mb to 20Mb.
Thanks to PGT and FISH we could conclude the abnormal karyotype from the carrier parent: 46,XY,t(5;21)(q33.2;q21.2) for couple 1, 46,XY,t(6;16)(p22.3;q22.1) for couple 2 and 46,XY,t(2;6)(p25.1;p24.2) for couple 3. Finally, each couple performed a cryotransfer of a single normal balanced embryo. Two pregnancies are ongoing.
This study shows the value of PGT for unexplained RPL, followed by parental FISH to better characterize CNVs and identify couples in whom one partner carries a cryptic translocation. Accurate diagnosis of parental chromosome translocation can achieve with FISH only, but FISH would not be performed unless PGT showed CNVs.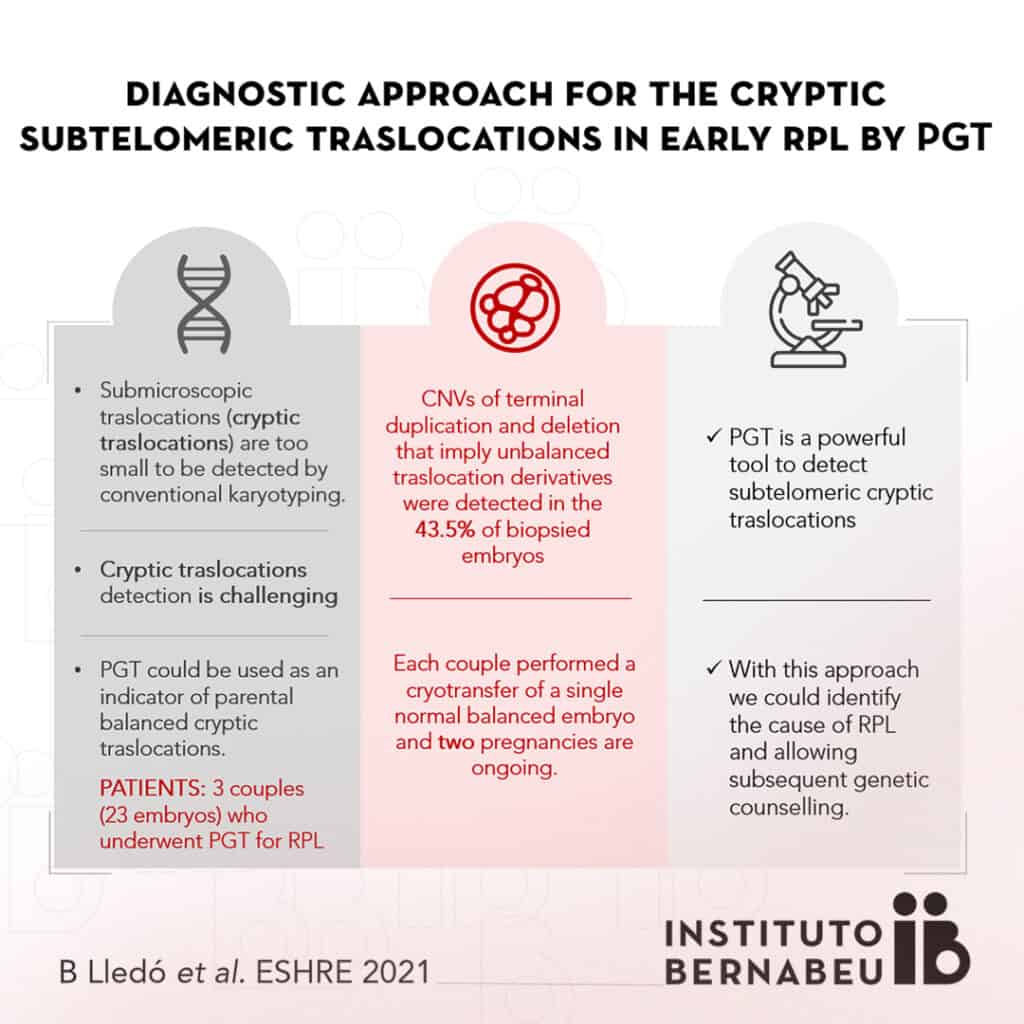 A feasible diagnostic approach for the cryptic subtelomeric traslocations in early recurrent miscarriage patients by preimplantation genetic testing (PGT)
B. Lledó, R. Morales, JA. Ortiz, A. Cascales, A. Fabregat, J. Ten, B. Moliner, A. Fuentes, A. Bernabeu, J. Ll. Aparicio, R. Bernabeu