Selection of egg donors at Instituto Bernabeu

Currently, oocyte donation is probably the most demanded technique in fertility centers, mainly due to the increase of maternal age. Voluntary participation of donors is essential, but donors must be evaluated carefully in order to avoid unsatisfactory results (do not forget that the ultimate goal is the birth of a healthy child without prejudice to the donor or the recipient couple).
In a recent study carried out in our center and presented at the Congress of the British Fertility Society, the leading causes of rejection in our program were evaluated in 560 potential egg donors.
146 candidates (26.1%) were rejected after the initial personal and psychological evaluation. Of the remaining 414 candidates, 46 (11.1%) were not suitable after medical examination. 368 patients continued the study, resulting in 65 (17.6%) of the candidates excluded by chromosomal and genetic causes, while three (0.8%) were rejected after the serology test.
In short, using our protocol only 300 of the 560 candidates (53.6%) eventually completed the selection process, data that supports its seriousness.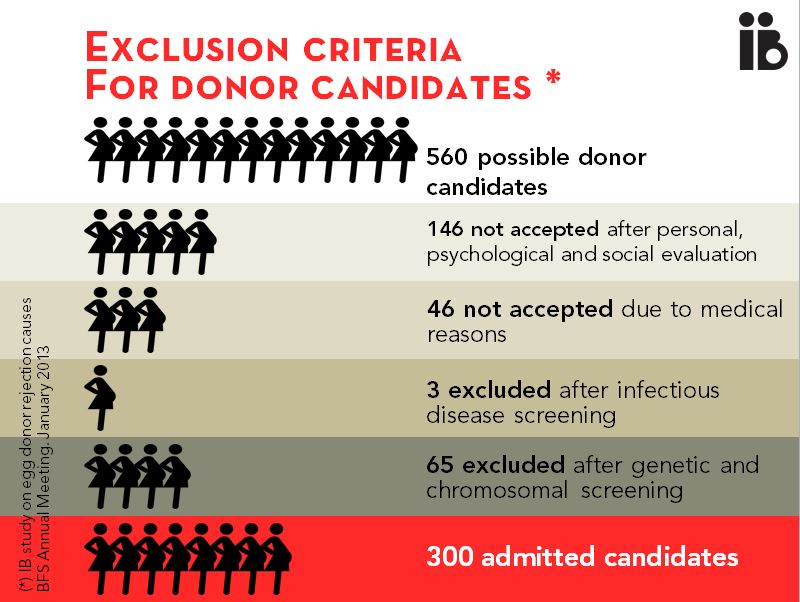 Until now it is the study that provides the most rigorous assessment in the selection of women candidates to donate oocytes. In order to ensure maximum suitability and safety of the procedure, Instituto Bernabeu conducts strict and comprehensive study of donor candidates including psychological, clinical and genetic assessment:
Psychological Assessment conducted by a clinical psychologist. The evaluation includes a personal interview and the application of our Psychological Assessment Questionnaire EMAE to evaluate the personality of the candidate.
Evaluation of the personal and family medical history performed by a fertility expert gynecologist, as well as a physical and gynecological examination to ensure the good health of the candidate and rule out any gynecological pathology.
Chromosomal and genetic studies to rule out the possible presence of the most common inherited diseases in this geographical area that could be transmitted to offspring: karyotype (including chromosomal polymorphisms associated with increased risk of miscarriage), screening for cystic fibrosis, Fragile X syndome, genetic study of Thalassemias. The DNA obtained for genetic studies is also stored in a Biobank in case it may be necessary in the future.
General analysis: Blood type and Rh factor, syphilis serology, Hepatitis B and Hepatitis C serology, HIV serology and clotting factors.
Screening for Cytomegalovirus (CMV)
Jaime Guerrero, biologist at Instituto Bernabeu.