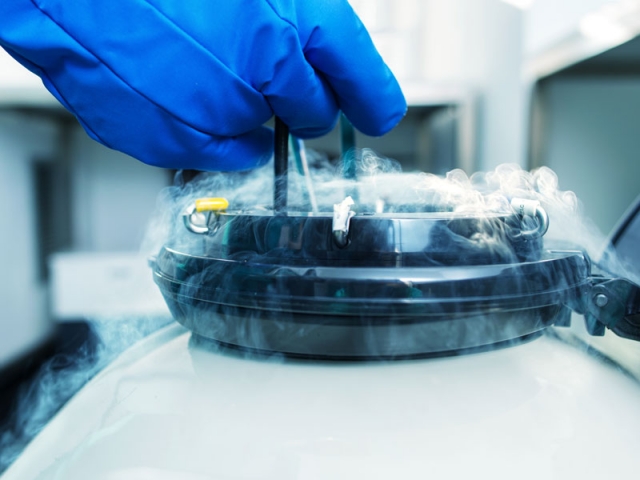 Can patients manage embryo and gamete transportation?
Whilst it is not part of the day-to-day routine at reproductive medicine clinics, it is now increasingly common to have to transport biological samples (oocytes, semen or embryos) from one clinic to another and even from one country to another.
There can be several reasons for this such as the following:
– The couple wishes to continue their treatment in a different clinic to the initial one. For example, when patients move house. In order to make life easier, they prefer to store the embryos that are currently stored in one bank in an alternative one at a clinic located nearer to their new home.
– The treatment involves using donated gametes but the clinic carrying it out does not have a gamete and pre-embryo storage bank. For example, when sperm bank semen is used for single mothers.
Is embryo and gamete transportation legal?
Law 14/2006 on Assisted Reproduction Techniques states that frozen embryos can be transported both to another Spanish clinic and to clinics outside Spain. However, transportation between clinics must always be performed by an authorised and certified transportation company.
Furthermore, the clinic of origin cannot deny patients the right to transfer.
Who can perform embryo and gamete transportation?
Patients may not, under any circumstances, manage transfer. It must always be performed in accordance with protocols that guarantee the safety and traceability of the process. Transportation is usually performed by courier service companies who have qualified personnel or, in some cases, staff from the clinics themselves are involved in the process.
How is transfer carried out?
Whilst there is no standardised process, the most common steps are as follows:
the clinic where the samples are stored receives a transfer request;
the receptor clinic is informed about the request to transfer samples to its storage bank;
a transportation, storage transfer and personal data transfer authorisation document for the samples is signed along with details of the particular case in order to guarantee data protection;
the clinics sign a temporary contract. The contract includes both clinic of origin and receptor clinic details as entities responsible for the process in both storage banks;
the samples are transported in containers that have been specially designed to minimise damage to biological material;
the receptor clinic must send a confirmation of receipt to the clinic of origin.
Types of embryo and gamete transportation
There are different ways of transporting biological samples. The most common one is a tank of liquid nitrogen. This method provides the best preservation conditions for samples, particularly preservation of oocytes and pre-embryos. However, dry ice containers are also very effective when transporting semen.
Transporting to another country
When samples are sent to another country, the process is more complex. First of all, an exportation authorisation request must be sent to the Spanish Ministry of Health. It takes several weeks to issue. After this, all the remaining steps are the same as the ones indicated above.
It is worth highlighting that transfer is not permitted when the plan is to use the samples in a surrogate pregnancy because treatment of this kind is not permitted in Spain.
What are the risks involved in transporting embryos and gametes?
The most common risks are the risks involved in handling samples when they are moved from one tank to another, both in the clinic of origin and in the receptor clinic. Furthermore, the way in which containers are handled is vital and, as such, transportation should be as quick as possible in order to sustain optimum temperature conditions for the samples.
Who is responsible for damage during transportation?
Should the biological material suffer any damage during transportation, the transportation company or the company in charge is held responsible. They are personally liable.
By way of conclusion…
It is worth highlighting that transferring pre-embryos or gametes is a very delicate process and that it entails risks. Patients need to be aware of them.
There are standardised protocols for these processes and each clinic has its own requirements for transfer that always champion patients' wellbeing.