The Role of Pharmaceuticals in Reproductive Medicine, presented by Dr Ana Fabregat. CEFA: National Conference of Pharmacy Students.
October, 27th 2009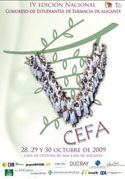 Support for education is a basic element among the principles of the Rafael Bernabeu Foundation and it is for that reason that we have sponsored the last editions of the "The National Conference of Pharmacy Students: CEFA". As well as a financial donation and materials, this year Dr Fabregat, from the Andrology department at Instituto Bernabeu, will participate with the seminar entitled, "The role of pharmaceuticals in Reproductive Medicine" which will take place on 29 October at 10:15.
CEFA, National Conference of Pharmacy Students, is in its fifth year and its fourth on a national level. It will take place this year on 28, 29, and 30 by students in the seventh year of the Pharmacy faculty at the University Miguel Hernandez, UMH. It will be held in the "Casa de Cultura" in San Juan town, Calle del Mar, 55.
Dr Ana Fabregat manages the Andrology and Clinical Analysis department for the Instituto Bernabeu group. She is a Doctor of Pharmacy from the University of Valencia and Specialist in Clinical Analysis via the Internal Resident, Pharmacy programme.