Instituto Bernabeu studies if mosaic segmental aneuploidy embryos affect pregnancy rates
November, 25th 2019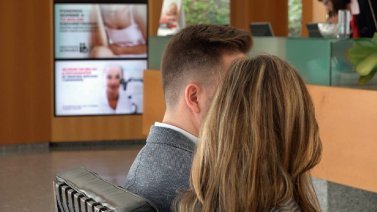 Instituto Bernabeu attended the Association for the Study of Reproduction Biology (ASEBIR) Congress held in Cáceres and presented a study about the effect that segmental chromosomal aneuploidies have on the embryo.
The team of researchers from the Molecular Biology and Genetics Department at IBBiotech, led by Director Belén Lledó, points out that chromosomal abnormalities are common in embryos obtained through in vitro fertilisation (IVF) treatment and analysed using PGT-A, an aneuploidy pre-implantation genetic test. Aneuploidies generally affect the entire chromosome but the researchers point out that there is a percentage of abnormalities that only affect one segment of the chromosome. This can detected using next generation sequencing techniques. Since it has not been possible to determine the precise impact of segmental mosaicism on pregnancy rates, the purpose of the research work was to check this parameter.
The study was performed over a period of six years, between 2013 and 2019, and, further to analysis of just over 5,000 embryos, the results indicate that segmental mosaicism is more frequent in embryos obtained from women who are under 35 years of age and that the implantation rate is similar to the rate in euploid, chromosomally normal embryos. The researchers at Instituto Bernabeu conclude that, whilst the percentage of these embryos is low, it is necessary to assess whether or not they should be transferred.
Las aneuploidías segmentarias en mosaico en blastocistos no afectan a los resultados de los ciclos de PGT-A
B. Lledo, R. Morales, JA Ortiz, E. García-Hernández, D. Rodríguez, J. Ll. Aparicio, A. Bernabeu, R. Bernabeu