Instituto Bernabeu invites you to the concert in honour of women to be held on 8th march
February, 15th 2017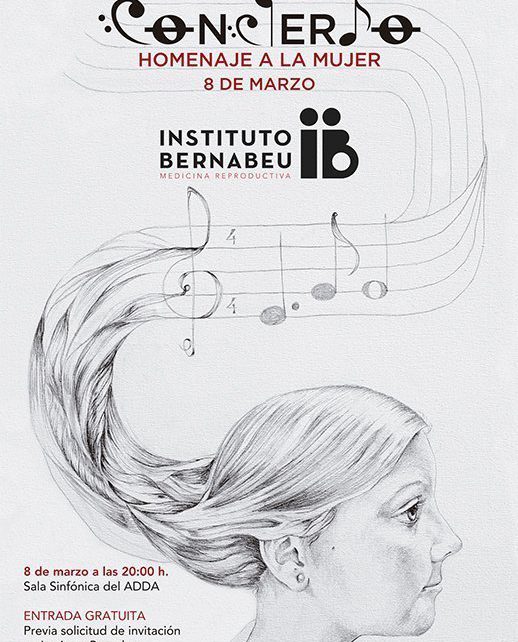 Women are Instituto Bernabeu's raison d'être. On 8th March each year, the Rafael Bernabeu Foundation invites the residents of Alicante to celebrate and get involved in this day through its Concert in Honour of Women. The event will be held in the Symphonic Hall at the ADDA Auditorium at 8 in the evening and attendees can expect to hear a repertoire inspired by women and maternity. On this occasion, sopranos Teresa Albero and Cynthia Moleón will offer the repertoire accompanied by Professor Juan Carlos Vázquez on the piano.
The programme will include pieces which are easily recognisable by the general public and will begin with a section from The Marriage of Figaro by Mozart. The first half will include music by Haendel, Rossini, Puccini, Catalani and Offenbach. Brining the event to a close, the second half will have a traditional and national feel including zarzuelas and other popular music by Moreno Torroba, Usandizaga, Chapí, Chueca and Lecuona, amongst others.
The evening, which has already turned into a fixed item on Alicante's cultural programme and which is organised by the Rafael Bernabeu Foundation, is holding its fifth edition and notably generates huge interest amongst residents of Alicante. Each year, the Concert in Honour of Women completely fills the Symphonic Hall which has a capacity of 1,200 people.
Entrance to the concert is free on presentation of an invitation which may be collected from Instituto Bernabeu in Alicante.
For further information, call 965 15 40 00.
Mass Media:
– La Fundación Rafael Bernabeu celebra su V Concierto Homenaje a la Mujer – Diario Información.
– Nuevo concierto de homenaje a la mujer en el ADDA organizado por el Instituto Bernabeu – Diario Información.
– El Auditorio acoge el Concierto Homenaje a la Mujer – Diario Información.