III Forum
El III Forum Mujer y Sociedad. 2008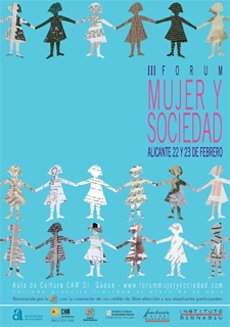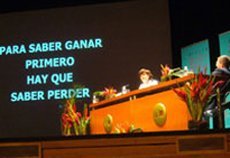 The III Woman & Society Forum took place on 22 and 23 February in the Lecture Rooms of the CAM with 440 attendees, more than double of the previous year.
Friday morning was dedicated to gender violence with the afternoon concentrating on "Woman & Education" chaired by Mr Bernardino Salinas, Valencia University Professor. Mª José Hernández, Head of Department at the same university, gave the first seminar, followed by Carmen Martínez Aguayo, vice-director of the Andalucía Assembly. Martínez Aguayo explained to the participants the politics of equality which the government of Andalucía is carrying out and the investment being made in social measures which directly affect women.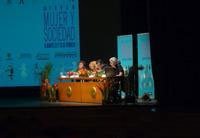 Ms Paca Ayza, teacher and member of the Provincial Federation of Housewives of Alicante, turned to several funny stories regarding Borges in order to illustrate the situation of women today; a woman who takes care of almost everything inside and outside of her house. Ms Cristina Almeida went over the advances attained for women and the long way still to go. She affirmed that "equality isn't a goal, it's an opportunity".
Approximately 15% of the attendees were students from Miguel Hernández University which awards credits to students who attend. Another 10% was made up students from other universities.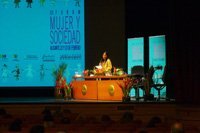 The close of the day and the session was presented by the writer, Asha Miró who spoke with sensitivity and simplicity about her life experience from her birth in her native India to her arrival in her adoptive city, Barcelona. She explained how her life changed when she returned to India at 27, 20 years after being adopted and how it propelled her to help women of her country to get out of a situation which could have been hers if not for the adoption.
Dr Ll. Aparicio, gynaecologist at Instituto Bernabeu, presided over the session on immigration and integration with the participation of Mª Carmen Hernández from the Alicante Foundation Acoge. Both Mª Carmen and Mª Carmen Vitoria, Head of the Department of Equality of Alicante Town Council, presented the work that both parties are implementing for the integration of immigrant women.
For her part, Mª Ángeles Llorante, member of the Teaching Renewal Movement and teacher at IES, Buñol, gave another compelling message of women overcoming adversity which received a resounding applause from the audience.
The III Woman & Society Forum came to an end on Saturday with an energetic message and which invited the participants to play down problems and make the most of opportunities in society, overcoming obstacles.
The III International Forum on Woman & Society was organised jointly by The Charitable Foundation Rafael Bernabeu and Instituto Bernabeu with the support of the Chair in Reproductive Medicine of Miguel Hernández University and the Chair of Biotechnology at Alicante University. The Forum was sponsored by Alicante Town Council and the CAM savings bank.