Progress at Instituto Bernabeu for improving embryo implantation and avoiding the birth of children with chromosomal abnormalities
December, 28th 2016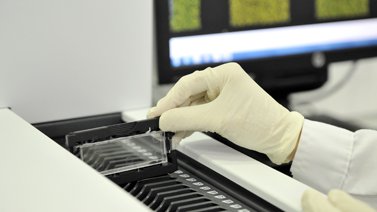 The Belgian Society of Assisted Reproduction Congress was held in Moons in November. The Instituto Bernabeu group took part in 5 research projects which were accepted for presentation by the scientific committee.
Covering one of the main causes of failure in IVF cycles, one of those projects deals with embryos which have chromosome number or structure abnormalities. In such cases, embryonic arrest can occur during cultivation or embryos can fail to implant following transfer and in those cases in which embryos do implant correctly, they lead to pregnancy loss during the first term or the birth of a child with malformations.
In our research work entitled Risk of pregnancy loss or viable aneuploidies in blastocysts not analyzed by CCS (Comprehensive Chromosome Screening), Comprehensive Chromosome Screening (CCS) of embryos prior to transfer means that all such problems can be avoided because only chromosomally normal embryos are selected.
The research includes an analysis of the risk, if embryos are not CCS screened, of pregnancy loss during the first term or the birth of a child with chromosomal abnormalities.
Over the last 4 years, we have analysed a total of 1,704 embryos using CCS. Of these, 39.6% had chromosomal abnormalities. Four percent of embryos with chromosome abnormalities could lead to a child with syndromes such as Down's syndrome (trisomy 21), Edwards' syndrome (trisomy 18) or Patau syndrome (trisomy 13). Additionally, 10.8% of these embryos could prove to implant successfully would but then lead to pregnancy loss during the first term (mainly as a result of trisomies in chromosomes 16, 22 and 15).
To conclude, CCS is new technology which enables the selection of chromosomally normal embryos, facilitates embryo implantation and avoids pregnancy loss and the birth of children with chromosomal abnormalities.