FERTILITY VIDEO CONSULTATION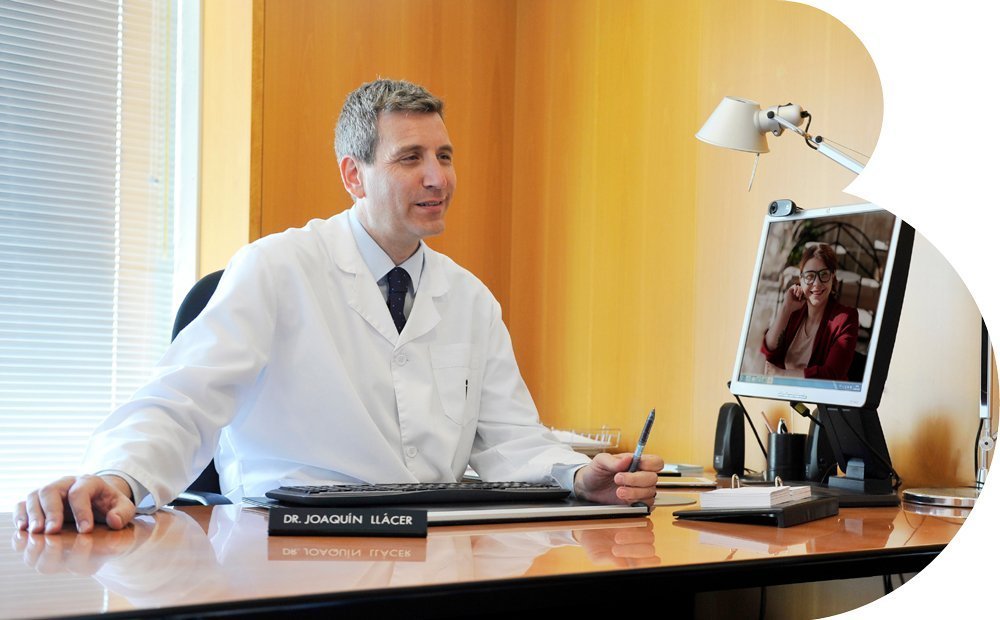 Do you need help? 
We can help you with a no-obligation

The entire team of specialists in Reproductive Medicine of Instituto Bernabeu is at your disposal to offer you your fertility study visit through videoconference
Are there any differences between a face-to-face or an online appointment?
There is no difference. Both last the same amount, which can be between 40 to 60 minutes. Your specialist gynecologist will study your personal history and previous medical history. All tests you have had carried out will be reviewed.  They will prescribe any new or repeat tests, if needed. Later you will have a meeting with your Patient Care Assistant (PCA) to go over all the essentials.
What does the fertility appointment include?
Either face-to-face or online, your specialist gynecologist will study your family, personal, gynecological and/or andrological history. If you have undergone previous treatments, their evolution and results. The doctor will review the studies provided and may request additional tests if necessary. Once you have all the results, you will be offered a personalized diagnosis at a second meeting.
Both appointments are included, both the initial and the follow-up, in which your treatment plan will be discussed, as well as all phone and email contact necessary to resolve and questions or doubts that may arise. 
Basic fertility studies are included in the price of the visit, in case you need them:
Sperm analysis
Sperm morphology test
Pap smear  
AMH level
3D ultrasound for the morphological study of the reproductive organs.  
These results are essential for a correct diagnosis and for the personalization of your treatment. If you did not have any of these done previously you can do them locally, or in our facilities whenever you decide. Due to the restrictions caused by the coronavirus, we temporarily have a special morning schedule. Also, if it is more comfortable for you, you can send us the blood or sperm sample for your tests.
The price of the fertility study will be deducted from the cost of the assisted reproduction treatment that has been prescribed, if you decide to do it, since the correct diagnosis is part of it.
Your Patient Care Assistant: by your side from the start
After the appointment with the specialist, you will continue with the first meeting with your Patient Care Assistant, the person who will take care of you throughout the treatment- to solve all the doubts that may have arisen, both regarding the design of the cycle and of the possible logistical needs. All of this will be in your native language and with sensitivity and training in specific care for patients in reproductive medicine.
In this interview, your Patient Care Assistant will also inform you of the necessary legal requirements, of any additional tests that the doctor has suggested, and will be at your disposal to facilitate the procedures.
In the subsequent appointment with the specialist, your personalized treatment plan will be explained to you, and your Patient Care Assistant will provide you with your prescriptions and everything you need to start the treatment. Your PCA will be available for anything you may need.
When, where and how can I have a video consultation?
You just have to request an appointment with our unit using the request form that you will find on this page. You can choose between one our doctors who speak your native language. At the same time, we will adapt the meeting to the time slot that you indicate.
To have your consultation you will only need a computer, smartphone or tablet with a camera and microphone as well as internet connection.
What can I do beforehand to make the most of my appointment?  
Please send us all the previous tests and results in advance. This way the gynecologist can assess the case beforehand and organize the appointment based on the needs that are detected.
If it is not possible for you to get the reports, do not delay the appointment as your doctor will tell you if they need them before starting treatment.
Efficiency, experience and warmth
Our extensive experience over the years in reproductive treatments for international patients or those who, due to geographical distance, have the most difficult time traveling to our clinics, has allowed us to develop online care 100% comparable to face-to-face. Offering the same humane, professional and personalized treatment: an excellent and comprehensive for experience. This is especially useful now to maintain the same professional and personable qualities of Instituto Bernabeu in these moments of confinement.
REASONS TO TRUST
Exceptional


medical care

in reproductive medicine
Excellent


results

audited by two external accredited agencies
Practical


research

So that we can tailor your treatment for you
7 specialized 

clinics
in Alicante, Madrid, Mallorca, Cartagena, Albacete, Elche y Benidorm
A great team of
professionals
committed to our patients
+30 years of
experience
guarantee our work
The most innovative
techniques
in infertility and reproductive genetics
Clear and fixed
prices
with everything included and no surprises
Personalized

and individualized
treatment in all cycles